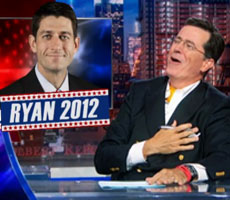 Stephen Colbert blew up over the nomination of Paul Ryan as Mitt Romney's running mate this Monday.
Colbert started out skewing Romney's introduction of Ryan as "the next President of the United States" and then went on to switch his target to the media for its ridiculous use of the word "bold" to describe Ryan.
Colbert went on to attack Ryan's budget, speaking of marauding seniors and entizzlements…….
See for yourself below:
(Visited 5 times, 1 visits today)