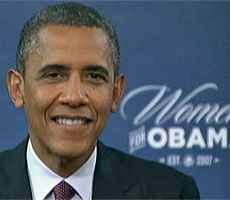 Last Thursday, President Obama gave the keynote speech at the BlogHer 2012 Conference via internet video conference call.
For those of your unfamiliar with BlogHer, here is an exerpt from their website:
"BlogHer is a community and media company created in partnership with women in social media….

Today, BlogHer is the largest community of women who blog: 40 million unique visitors per month (April 2012, Nielsen Site Census). Engaged, influential and info-savvy, these women come to BlogHer to seek and share advice, opinions and recommendations. BlogHer's team works hard to bring you the best and brightest conversations, writers and speakers – online and in person."
During his speech, Pres. Obama discussed the benefits and importance of national health care, the Lilly Ledbetter Fair Pay Act, loans for businesses owned by women, and student loans for millions of women.
_______________________________________
Click here for all our articles on Women's Issues
_______________________________________
Here is a short quote from the speech and you can read the entire transcript by clicking here.
"Now, some of you may have heard there's an election coming up.  And women's issues are front and center, as they should be. But I think the conversation has been oversimplified a little bit.  I bet anyone who spends a little time at your conference would realize pretty fast that women are not a monolithic bloc, you're not an interest group.  You make up more than half of our country and nearly half of our workforce — not to mention 80 percent of my household if you count my mother-in-law. …

[W]hat drives me when I step into the Oval Office, every decision that I make is making sure that all of our daughters — just like all of our sons — are growing up in a country that gives them the chance to be anything they set their minds to, and a country where more doors are open to them than were open to the previous generation.

That's why the first bill I signed was the Lilly Ledbetter Fair Pay Act — to help protect your right to equal pay for equal work.  Now I want to strengthen those protections.  And that's why we've extended more loans to women-owned businesses.  That's why we've cut taxes for small business owners 18 times.

I also want to keep small business taxes low in the future. That's why we've enacted education reform that's helped more than 2.3 million more young women afford to pursue higher education.  And now I want to make sure even more can afford to go.

And because of the new health care reform law — Obamacare  — I happily accept the term — millions of young women are going to have coverage through their parent's plans.  Children with preexisting conditions can't be denied insurance.  Tens of millions of women with private insurance now have access to preventive care like mammograms, and are beginning to gain access to contraception at no additional cost.  And pretty soon, insurance companies will no longer be able to deny you coverage because of preexisting conditions like cancer or pregnancy, or charge you higher premiums just for being a woman.  I'm not going to give any ground to those who would deny women their own health care choices."
(Visited 11 times, 1 visits today)