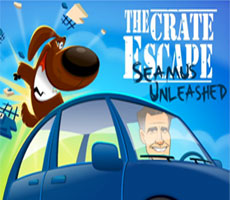 "The Crate Escape is an addictive, fun game for mobile phones that lets Seamus get revenge against his arch enemy, Mitt Romney" and will be available for download on National Dog Day, August 26, 2012.
"The Crate Escape: Seamus Unleashed, is one of the first entries into a powerful new genre of mobile games-as-social commentary – games designed to use humor, satire and fun gameplay to engage players and effect social change," , according to the developer's Kickstarter page where they are already more than halfway to their goal. (Be sure to 'like' them on Facebook as well.)
Devo, the world famous band, is scheduled to release a new single the same day as part of a cross promotion with The Crate Escape and sponsor Dogs Against Romney (also on Facebook).  The song is entitled: "Don't Roof Rack Me, Bro! (Remember Seamus)."
Below is a short promotional video on the Crate Escape project followed by a video showing game play.
The Crate Escape Game Play

(Visited 59 times, 1 visits today)