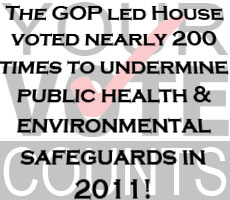 The environment has not been talked about much so far during the election campaigns.
The difference between the Democrats and Republicans could not be more distinct with the Republicans wanting to cut the Environmental Protection Agency (EPA), to rollback or weaken protections like the Clean Air and Clean Water Act.
Mitt Romney has called the EPA "a tool in the hands of the President to crush the private enterprise system," and he has promised to block protections on fracking, carbon emissions and the like.
Below is a really great video on current environmental issues and the GOP threat to our eco-systems.
The video includes interviews with Rep. Raul Grijalva (AZ-7); Jason Kowalski, Policy Director at 350.org; David Doniger from the Natural Resources Defense Council and former director of climate change policy at the EPA; and Joe Mendelson, director of global warming policy at the National Wildlife Federation.
All these individuals share the history, purpose, and success of our environmental laws, and push back on the Republican lie that environmental protections are bad for the economy.
With the health of millions of Americans potentially impacted by the dangerous positions of Mitt Romney and Republican lawmakers, it's vital that this issue isn't forgotten this election season. Help us spread the word by sharing the video.
TAKE ACTION
Contact your congressman, and SHARE THIS VIDEO!

This documentary film was produced and edited by Chase Whiteside (interviews), Erick Stoll (camera), and Liz Cambron.
Graphic design by Chase Whiteside.
Motion design by Ashley Walton (ashleywalton.com).
Music from the brilliant Jon Brion.
THANKS
Sean Barma
Laura Dawn
Suzanne Struglinski
Jamie Henn
Adam Sarvana
Natural Resources Defense Council
Nation Wildlife Federation
350.org
NLM ELSEWHERE:
Facebook: http://facebook.com/newleftmedia
Twitter: http://twitter.com/newleftmedia
Tumblr: http://blog.newleftmedia.com
DONATE:
Our videos are free to watch, but costly to produce. Every contribution helps to keep us online.
http://donate.newleftmedia.com/
Citations:
1: http://www.epa.gov/lawsregs/laws/
2: http://www.govtrack.us/congress/votes/91-1970/h268
3: http://www.govtrack.us/congress/votes/91-1970/h268
4: http://www.epa.gov/lawsregs/laws/caa.html
5: http://www.politico.com/news/stories/0512/76022.html#ixzz208tCiU2P
6. http://democrats.energycommerce.house.gov/sites/default/files/image_uploads/R…
7: http://www.bea.gov/national/index.htm#gdp
8: http://epw.senate.gov/public/index.cfm?FuseAction=Files.View&FileStore_id…
9: http://www.sourcewatch.org/index.php?title=existing_U.S._Coal_plants
10: http://www.reuters.com/article/2011/04/12/us-usa-budget-epa-idUSTRE73B7NU2011…
11: http://www.platts.com/RSSFeedDetailedNews/RSSFeed/ElectricPower/6399473 12:http://www.whitehouse.gov/sites/default/files/omb/budget/fy2013/assets/enviro­nmental.pdf
13: http://www.epa.gov/air/sect812/prospective2.html
14: http://www.americanprogress.org/issues/2012/02/big_oil_banner_year.html/
15: http://www.opensecrets.org/industries/indus.php?Ind=E01
16: http://www.opensecrets.org/industries/totals.php?ind=E01++
17: http://www.americanprogress.org/issues/2012/02/big_oil_banner_year.html/
18: http://www.epa.gov/air/sect812/prospective2.html
19: http://www.bna.com/trichloroethylene-causes-human-n12884903636/
20: http://www.library.pima.gov/librarianfiles/?kbid=785
21: http://www.library.pima.gov/librarianfiles/?kbid=785
22: http://www.youtube.com/watch?v=b_dbjC2-OK8
23: http://www.nytimes.com/2011/04/08/us/politics/08emit.html
25: http://www.nrdc.org/health/extremeweather/
26: http://videocafe.crooksandliars.com/heather/mitt-romney-calls-epa-out-control…
(Visited 20 times, 1 visits today)