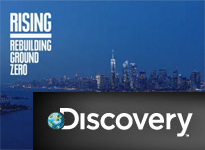 A massive effort was mounted in preparation for President Obama's unveiling of a new ground zero on September 11, 2011.
To document this historic effort, the Discovery Channel was on location as the expansive 16-acre complex was created filming the men and women who made this vision a reality.
From the Discovery Channel:
"DEDICATED TO THE HEROES TRANSFORMING GROUND ZERO – EACH OF YOU HAS A POWERFUL STORY TO TELL – WE WISH WE COULD HAVE TOLD THEM ALL"
Rebuilding Ground Zero: Symbol of Hope
Rebuilding Ground Zero: Symbolism in Numbers
Rebuilding Ground Zero: Washington Monument
Rebuilding Ground Zero: Tower One Reinforcement
Click here to see all the videos in the Discovery Channel Rising Rebuilding Ground Zero series.
(Visited 7 times, 1 visits today)