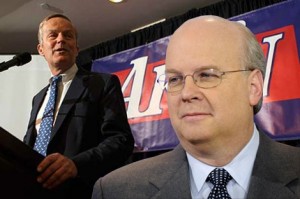 As reported last Friday by Bloomberg Businessweek, conservative strategist Karl Rove joked about murdering embattled Rep. Todd Akins (R-Mo.) whose controversial comments about "legitimate rape" and pregnancy drew the ire and condemnation of the GOP.
Rove explained to an audience dotted with hedge fund billionaires and investors—including John Paulson and Wilbur Ross—how his super PAC, American Crossroads, will persuade undecided voters in crucial swing states to vote against Barack Obama. He also detailed plans for Senate and House races, and joked, "We should sink Todd Akin. If he's found mysteriously murdered, don't look for my whereabouts!"
The Associated Press reported on Saturday that
"Akin's office issued a statement calling the quote deeply disturbing, given that the FBI has been investigating threats against Akin after his comments that women's bodies can shut down pregnancy in cases of what he called 'legitimate rape.'"
Akin advisor, Rick Tyler, said the congressman received and accepted an apology from Rove by telephone on Friday after the comments were reported by multiple news outlets.
"Karl's personal apology to Todd was appreciated and Todd did forgive him. But because Karl has maliciously and disgracefully attempted to ruin Todd's solid reputation as a public servant, at a minimum, he should follow Todd's example and make his own contrition public."
Howevr, over the weekend, several leading members of the GOP spoke out against Rove to include former House Speaker Newt Gingrich, who told an NBC panel on Sunday that it was a mistake to force Akin out of the race.
"Karl Rove said some terrible things on Friday for which he has apologized, which should remind us that people make mistakes," Gingrich explained.

"He was joking about if he shows up, he murdered someone," noted NBC host David Gregory.

"In the age of [former Arizona Rep.] Gabby Giffords it is not a joke to say that a member of congress ought to get murdered," Gingrich insisted.
Fox News host Mike Huckabee, also a former presidential candidate who served as governor of Arkansas, wrote on his website that Rove's remarks were worse than Akin's original comment:
"If making a foolish remark about rape is bad, then making a joke about a United States Congressman being murdered is as bad or worse since Akin didn't wish anyone to be raped, just spoke awkwardly and incorrectly about the likelihood of pregnancy in the event of a rape," Huckabee wrote.

"In light of the attempted assassination of Congresswoman Gabby Giffords, the remark was disturbing," he continued.
(Visited 13 times, 3 visits today)