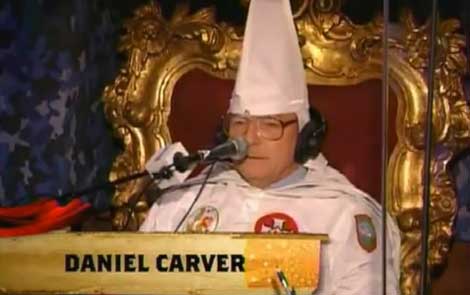 The Wake County Democratic Party of Raleigh, North Carolina, recently posted a message left on their answering machine that they described as "A mean-spirited tirade left on the WCDP voicemail [that] serves as a wake-up call".
Sources have revealed to Liberals Unite that the individual behind this message was none other than Daniel Carver, the Imperial Wizard and Grand Dragon of the "Invisible Empire, Knights of the Ku Klux Klan," a branch of the Klan operating in Georgia.
Carver is well-known throughout Georgia and the Carolinas for his outspoken racist viewpoints to the extent that his house, on the highway to Athens, with its racist symbols and flags scattered about the lawn has become a bit of a local attraction.
Carter has also entered the national stage in recent years, due in part to his recurring appearances on shows such as Howard Stern's. [You can listen to but one example below.] Rolling Stone Magazine has mentioned him as well, in regards to his many Stern appearances.
You can listen to the message below, followed by a couple of clips of Carter showing just how out there he is….
(Visited 145 times, 1 visits today)