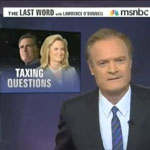 Lawrence O'Donnell destroys Ann and Mitt Romney over their failure to release any more tax returns.
Paul Ryan's nomination was supposed to take some pressure off the Romney and controversy surrounding their tax returns, however as O'Donnell points out below – they are not going away.
O'Donnell points out that neither of the Romneys ever say "income tax" when speaking about paying taxes noting that of course they pay taxes on their many homes, etc. but that they seem scripted through lawyer coaching to never say "income" and "tax" in the same sentence.  He also points out that they may have taken advantage of one of the government amnesty programs for persons with overseas bank accounts to avoid prosecution for a felony or felonies.
You can watch the clip below.
(Visited 5 times, 1 visits today)