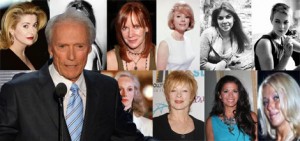 Aside from all the buzz surrounding Clint Eastwood's empty chair speech, the GOP could have done a lot better than Clint Eastwood to act as their "Star Headliner" at their recent national convention in Tampa.
Although Eastwood has historically backed Republican politicians beginning with Dwight D. Eisenhower in 1952 and continuing with both Nixon campaigns, Ronald Reagan, John McCain and most recently Mitt Romney.  However, if one looks to his position on the issues, Eastwood's politics tends more often than not to be diametrically opposed to that of the official Republican National Platform.
Here are but a few of the areas where he differs from the Republicans:
Eastwood is pro- choice in word and deeds with Sandra Locke having 2 abortions and a tubal ligation within the first four years of their adulterous relationship. [1][2]
Eastwood advocates gay marriage. [3][4]  In an interview with GQ magazine, Eastwood criticised the Republican Party for its stance on gay marriage, saying "These people who are making a big deal out of gay marriage? I don't give a fuck about who wants to get married to anybody else! Why not?! We're making a big deal out of things we shouldn't be making a deal out of. They go on and on with all this bullshit about 'sanctity' — don't give me that sanctity crap! Just give everybody the chance to have the life they want."
Eastwoods supports gun control measures such as California's Brady Bill. [5]
Eastwood contributed to groups supporting the Equal Rights Amendment, which failed in 1982. [5]
Eastwood is anti-war disapproving of America's wars in Korea, Vietnam, Afghanistan, and Iraq. Source
Eastwood is a self-professed "liberal on civil rights". [7]
Eastwoods does not support reliance on welfare, however, he supports "unemployment insurance and bail-outs for homeowners saddled with unaffordable mortgages" [5]
When it comes to environmental issues he supports electric and hybrid cars, environmental conservation, land preservation, and alternative energy. [5]
When it comes to his personal life,
Eastwood has been characterized as a "serial womanizer" having had at least 7 children by 5 different women. [8][9]
Eastwood has had affairs with actresses Catherine Deneuve, Jill Banner, Jamie Rose, Inger Stevens, Jo Ann Harris, Jean Seberg, script analyst Megan Rose, James Brolin's former wife Jane, columnist Bridget Byrne, and swimming champion Anita Lhoest. [10][11]
Eastwood lived with Sandra Locke for fourteen years, despite the fact that Locke remained married (in name only) to her gay husband, Gordon Anderson. [1][12]
Footnotes:
[1] "Sondra Locke Suing Clint Eastwood". Lewiston Journal. Associated Press. April 28, 1989. http://news.google.com/newspapers?id=H70gAAAAIBAJ&sjid=sWkFAAAAIBAJ&pg=4573%2C3414437. Retrieved April 29, 2010.
[2] "Clint Eastwood: 1997 Playboy Interview". Playboy. March 1997. Archived from the original on January 23, 2011. http://www.webcitation.org/5vxsmHBb6.
[3] McCafferty, Dennis (January 25, 2004). "American Icon series – Clint Eastwood". USA Weekend.
[4] http://www.gq.com/entertainment/movies-and-tv/201110/leonardo-dicaprio-clint-eastwood-gq-september-2011-cover-story-article?slide=2#slide=4
[5] http://www.enotes.com/topic/Political_life_of_Clint_Eastwood
[6] Schickel, p. 380
[7] "Clint Eastwood: 1974 Playboy Interview". Playboy. February 1974. Archived from the original on January 23, 2011. http://www.webcitation.org/5vxsTt7uJ.
[8] Amara, Pavan; Sundberg, Charlotte (May 30, 2010). "Eastwood at 80". The Independent (London). Archived from the original on January 16, 2011. http://www.independent.co.uk/news/people/news/eastwood-at-80-1986872.html.
[9] Day, Elizabeth (November 2, 2008). "Gentle Man Clint". The Guardian (London). Archived from the original on January 16, 2011. http://www.guardian.co.uk/film/2008/nov/02/clint-eastwood-drama.
[10] http://www.independent.ie/national-news/clint-the-man-with-no-shame-411398.html
[11] http://www.whosdatedwho.com/tpx_554/clint-eastwood/datinghistory
[12] http://www.dougiethompson.com/clint-eastwood-sexual-cowboy.htm
(Visited 88 times, 1 visits today)