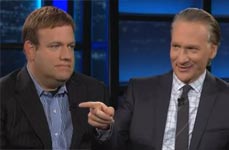 Bill Maher battles Frank Luntz over Obama, Romney, and 'low information' voters.
During the interview, Luntz predicted that in spite of Pres. Obama's poor performance during the first debate, that he would win reelection.
MAHER: "I've heard you say before that 'show me the first 9o seconds of the debate and I will tell you who is going to win the presidency. Okay Nostradamus who is going to win?"
LUNTZ: "At this point, I still think – Barack Obama."
Below you can watch the web exclusive Real Time with Bill Maher: Overtime – Episode #261 from the same episode from last Friday.
(Visited 12 times, 1 visits today)