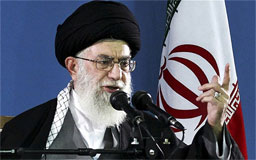 UPDATE: In a statement Saturday evening, National Security Council spokesman Tommy Vietor said the U.S. and Iran had no such agreement. 
Vietor's statement:
It's not true that the United States and Iran have agreed to one-on-one talks or any meeting after the American elections. We continue to work with the P-5+1 on a diplomatic solution and have said from the outset that we would be prepared to meet bilaterally. The President has made clear that he will prevent Iran from getting a nuclear weapon, and we will do what we must to achieve that. It has always been our goal for sanctions to pressure Iran to come in line with its obligations. The onus is on the Iranians to do so, otherwise they will continue to face crippling sanctions and increased pressure.
As reported by the New York Times a few minutes ago, "U.S. Officials Say Iran Has Agreed to Nuclear Talks".
These proposed one-on-one negotiations concerning Iran's nuclear program between the United States and Iran will be a historic first and according to Obama administration officials, could be the result of a last-ditch effort on the part of Iran to avert a preemptive military strike against themselves.
You can click here to read the full New York Times story.
One must ask themselves after all this time, why exactly Iran has decided to enter into an agreement for talks now.
Consider this:
Presidential hopeful Mitt Romney, along with other top GOP officials, has been pushing for a stronger approach to the Iran problem and have been very vocal about supporting the idea of military action.
Mitt Romney has also been pushing the idea that Pres. Obama has pushed Israel 'under the bus' for not supporting their talk of a preemptive strive against Iran – basically yesterday.
The debates are pretty much a draw so far with foreign policy being the topic for the last debate and Obama's only real weaknesses being pushed by Romney and the GOP are the recent Libyan incident, Iran, and the GOP's perceived lack of enough support by the administation for Israel in regards to Iran.
Now, with all that in mind and with all the bluster being tossed about by Romney regarding entering a war with Iran, were I Iran's Supreme Leader Ayatollah Ali Khamenei, I would be doing everything I could to insure Obama's reelection.
So now consider this:
This new option was proposed late on Saturday, meaning global media will not pick it up completely until tomorrow – Sunday.  That means that the story will be the main headliner all day Monday….. It will be on all all the daytime and evening news magazines shows, the pundits will all be buzzing about it.
Monday is the night of the last presidential debate, and low and behold, the topic is foreign policy.
Iranian officials have insisted that the talks wait until after the presidential election and it is far from clear whether Pres. Obama's opponent would go through with those negotiations were he to win.
However this plays out, the simple truth of the matter is that Pres. Obama can now make the case that his policies regarding Iran and Israel have led to a historic breakthrough in the decade-long effort by the world's major leaders to rein in Tehran's nuclear ambitions.
Iran just may have handed the election to President Obama. It is certainly something to consider.