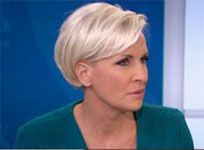 Mika Brzezinski, co-host of "Morning Joe" discusses the ramifications of the disturbing news that Romney lied during the debate about the "binders of women".
Mika also pointed out that Romney's portrayal of women's work needs seemed reflective of an archaic and demeaning perception of women and went on to note that women should be concerned about Romney, particularly if they combine all that with the assumption that Romney does not support the Lilly Ledbetter Act which guarantees equal pay for women.
The panel includes economic analyst Steve Rattner and Time's Mark Halperin, who analyze comments Mitt Romney made during Tuesday's presidential debate at Hofstra University, and in particular that his "binders full of women" for staff positions when he was governor of Massachusetts.
Visit NBCNews.com for breaking news, world news, and news about the economy
(Visited 134 times, 1 visits today)