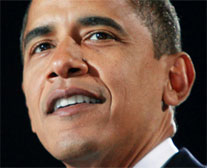 Earlier today Fox News contributor Lanny Davis published a piece entitled "My prediction — Obama will, and should, win on Election Day".
Davis cites three reasons Pres. Obama will win.
First, President Obama won the battle of messages and Romney lost.
Davis notes that Obama's core message — "I did the best I could on the economy; we were in a deep hole and I've made some progress getting out of it" — was, in his opinion, a more credible and persuasive message than Romney's message: "President Obama failed on the economy and I can succeed by way of tax cuts and less government regulation."
Second, polls show that Obama remains the more likable of the two candidates.
In support, Davis points out that Mitt Romney enhanced his "unlikability throughout the Republican primaries. There was the incredible moment when even conservative Texas Gov. Rick Perry asked him to "have a heart" when Romney criticized Perry for allowing illegal immigrants to pay lower in-state tuition costs in Texas to go to a state university".
Third, and "maybe most importantly, Barack Obama remains the change candidate who excites and inspires (inevitably, less so than in 2008) the younger generation of Americans. He leads in the polls substantially among that younger generation — by margins of 20 to 30 percent. They are America's future".
Davis breaks down his predicted voting results as follows:
Popular Vote
Obama — 50 percent
Romney — 49 percent
Obama — Electoral votes = 281
Romney — Electoral votes = 257
——————
OBAMA STATES — ELECTORAL VOTES
ST Solid States = 142
Likely —
Connecticut (7)
Maine (3)
New Jersey (14)
New Mexico (5)
Washington (12)
ST: 41
Lean
Maine CD2 (1)
Oregon (7)
Minnesota (10)
ST: 18
ST: TOTAL 201
Battleground states
Iowa (6)
Nevada (6)
New Hampshire (4)
Ohio (!!!) (18)
Pennsylvania (20)
Wisconsin (10) (!!!)
Michigan (16)
ST: 80
Total electoral votes/Obama: 281
==========
ROMNEY STATES — ELECTORAL VOTES
ST: Solid 127 (including Nebraska 3 electoral votes)
Likely
Georgia (16)
Indiana (11)
Missouri (10)
Nebraska (CD2) (1)
South Carolina (9)
South Dakota (3)
ST: 50
Lean
Arizona (11)
Montana (3)
ST: 14
TOTAL 191
Battlegrounds
Colorado (9)
Florida (29)
North Carolina (15)
Virginia (13)
ST: 66
Total Electoral votes/Romney: 257
Read more: http://www.foxnews.com/opinion/2012/11/05/my-prediction-obama-will-and-should-win-on-election-day/#ixzz2BNvJdbdI
(Visited 15 times, 1 visits today)