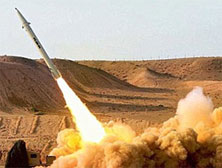 Earlier today, Israel fired missiles into Syria for the first time since the 1973 Yom Kippur War.
The Israeli anti-tank missile struck a Syrian military mortar crew after stray mortar fire from fighting in the civil war-hit nation of Syria hit the Israeli-occupied Golan Heights. The Syrian shell that landed in Israel is believed to have been aimed at rebel forces in the civil war and there were no reported injuries.
The Israel Defense Forces (IDF) filed a complaint over the incident with United Nations forces operating in the area. The complaint said that "fire emanating from Syria into Israel will not be tolerated and shall be responded to with severity".
The Israeli army said: "A mortar shell hit an IDF post in the Golan Heights adjacent to the Israel-Syria border, as part of the internal conflict inside Syria. In response, IDF soldiers fired warning shots towards Syrian areas."
Sky's Middle East correspondent Sam Kiley reported:
"Sky sources tell me the warning shot was an anti-tank missile fired by Israel into Syrian territory, close to the crew that was identified as having fired this mortar round. So, already the Israelis are signalling that both sides should back off. They don't want another front line opening up in their ongoing conflicts, not least because in the last 24 hours there has been an escalation of violence in Gaza."
A string of mortar shells have struck the Golan during the 19-month long Syrian conflict between rebel fighters and forces loyal to Syrian President Bashar al Assad.
Just last week, three mortar shells fired from Syria landed in Israel; a military vehicle on patrol in the Golan was hit by Syrian fire; and three Syrian tanks rolled into the demilitarized zone between Israel and Syria.
Israel's military chief, Lieutenant-General Benny Gantz, warned troops on the Golan Heights a week ago: "This is a Syrian issue that could become our issue."
The Jewish state captured the Golan from Syria in the 1967 Mid-East war.
(Visited 9 times, 1 visits today)