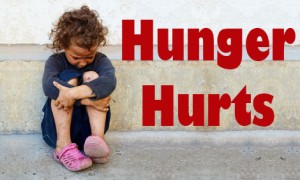 The final figures for the cost, in dollars, of the recent election are beginning to roll in with an estimated minimum figure of an astounding $6 billion.
Now consider this: recent figures released by the United Nations estimate the total cost of ending world hunger is about $195 billion.   More than one billion people – approximately 1/6 of the world's population are hungry. And every day nearly 16,000 children die from hunger and related causes.
Now take that same $6 billion dollars and consider that by conservative estimates that same amount of money could feed the entire population of the earth for about 12 days and could feed the hungry of the world for slightly over 78 days.
Take a look at these recent world figures regarding hunger:
1.02 billion people in the world are hungry.
UN Food and Agriculture Organization
1 billion people in the world live on less than $1 a day.
"World Development Indicators 2007." The World Bank.
27 percent of children under 5 are moderately to severely underweight in the developing world.
"State of the World's Children 2007."UNICEF.
Nearly one in three people die prematurely or have disabilities due to poor nutrition and calorie deficiencies.
"Malnutrition." World Health Organization (WHO)
One in nearly seven people do not get enough food to be healthy, making hunger and malnutrition the number one risk to health worldwide.
UN World Food Program
Or why don't we bring matters a little closer to home and look at some U.S. figures.
17.2 million: The number of households that were food insecure in 2010, the highest number on record. They make up 14.5 percent of households, or approximately one in seven.
48.8 million: People who lived in food insecure households last year.
3.9 million: The number of households with children that were food insecure last year. In 1 percent of households with children, "one or more of the children experienced the most severe food-insecure condition measured by USDA, very low food security, in which meals were irregular and food intake was below levels considered adequate by caregivers."
6.4 million: Households that experienced very low food security last year, meaning "normal eating patterns of one or more household members were disrupted and food intake was reduced at times during the year because they had insufficient money or other resources for food."
55: The percentage of food-insecure households that participated in one or more of the three largest Federal food and nutrition assistance programs (SNAP, WIC, School lunch program).
19.4: The percentage of food insecure households in Mississippi, which had the highest rate in the nation last year.
3.6 percent: The amount by which food prices increased last year.
30 percent: The amount by which food insecurity grew during the Great Recession.
44: The percentage increase in households using food pantries between 2007 and 2009.
20 million: The number of children who benefit from free and reduced lunch per day.
10.5 million: The number of eligible children who don't receive their free and reduced lunch benefits.
$167.5 billion: The amount that the U.S. lost in 2010 due to hunger (lost educational attainment + avoidable illness + charitable giving to fight hunger). This doesn't take into account the $94 billion cost of SNAP and other food programs.
8: The number of states (FL, TX, CA, IL, NY, OH, PA, GA) where the annual cost of hunger exceeds $6 billion.
Last year, 17.2 million households in the United States were food insecure, the highest level on record, as the Great Recession continued to wreak havoc on families across the country.  Currently, "nearly half of the households seeking emergency food assistance reported having to choose between paying for utilities or heating fuel and food. Nearly 40 percent said they had to choose between paying for rent or a mortgage and food." This post-election season, as you sit down to enjoy a meal with family and friends, please spare a thought for those who, due to the country's continuing economic woes, may not have enough to eat and ask yourself:
Do we really need to continue throwing literally billions upon billions of dollars in the trash can in failed attempts to buy U.S. elections?
All you need to do is look at the great failure of money in politics in this, our first significant, post Citizens United election:
We have the same president;
Democrats still control the Senate by a narrow margin;
Republicans still control the House by a narrow margin;
Only 1 of the 11 governor elections resulted in a change of parties.
Enough is enough America.
(Visited 53 times, 1 visits today)