I don't know about you, but I am sick and tired of listening to Donald Trump and his incessant ranting about bullshit that nobody cares about except, of course, the "Trump Rump" himself.
Among other things, his continuous "birther" rants have worn everyone out, with the possible exception of  INSANE Sheriff Joe Arpaio of Arizona who is another flavor of right-wing lunatic in his own right.
And it is not like this has not been going on for some time now.  For instance take a look at CNN's Wolf Blitzer in the video below as he argues with Trump calling him "ridiculous" for his "doubling down" on the "birther" issue.
And what about Trump's recent "October Surprise" where he once again made a complete fool of himself by offering to donate $5 million to a charity of President Obama's choice—if the president releases his college application records and transcripts, along with his passport application by the end of the month. 
The Colbert Report Response to Trump's nonsense may have been Stephen Colbert's best work this campaign.  Even President Obama zinged Donald Trump about their childhood together in Kenya with a humorous slam while appearing on the Tonight Show with Jay Leno.  And if that isn't enough, take a look at the video below where everyone from Jay Leno to Barbara Walters skewers Trump as a complete fool.
Most recently, the "Trump Rump" sounded off on Twitter spreading recent lies by the Romney campaign regarding Jeep which have been thoroughly debunked by everyone from executives at Chrysler (who own Jeep) to the publisher of the original article cited by the Romney campaign.

This elicited a quick response from Chrysler Executive Ralph Gilles, the President and Chief Executive Officer – SRT Brand and Motorsports, Chrysler Group LLC and Senior Vice President – Product Design, Chrysler Group LLC.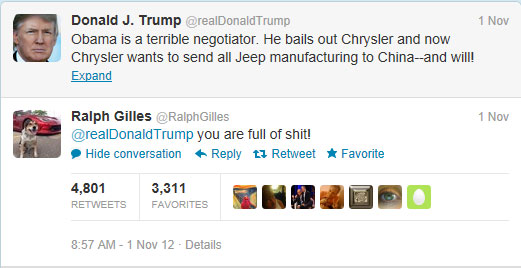 To make matters worse, Gilles went on to pour salt on the wound by posting 4 more responses to Trump over the course of the next couple of days.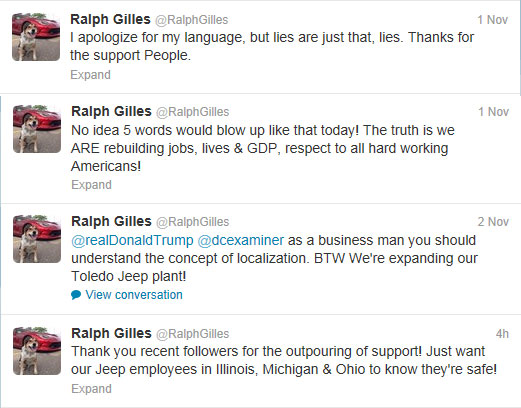 And last but not least, who can forget when President Obama destroyed Trump during the White House Correspondents' dinner last April in Washington D.C. after enduring weeks of attacks from Trump as he campaigned briefly for the Republican nominee for president.
(Visited 621 times, 1 visits today)