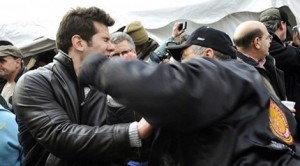 Contrary to all the buzz circulating around the news media, originating at Fox News, as it turns out, Fox Contributor Steven Crowder started a confrontation earlier this week by assaulting a Michigan union member.
Fox News has been tearing up the airwaves all week with reports and interviews surround what they are characterizing as an unprovoked assault on one of their contributors by a bunch of "leftist union thugs".  However, a simple review of their own raw video footage clearly shows Crowder knocking a union member to the ground, who in turn punched back at Crowder.  [Pay close attention to the video above starting at 1'30".]
What is even more interesting is the obvious editing job on Steven Crowder's official YouTube channel, clearly designed to subvert the truth and reinforce his nonsensical claims.
Below is the same footage as edited and presented by Crowder on YouTube.