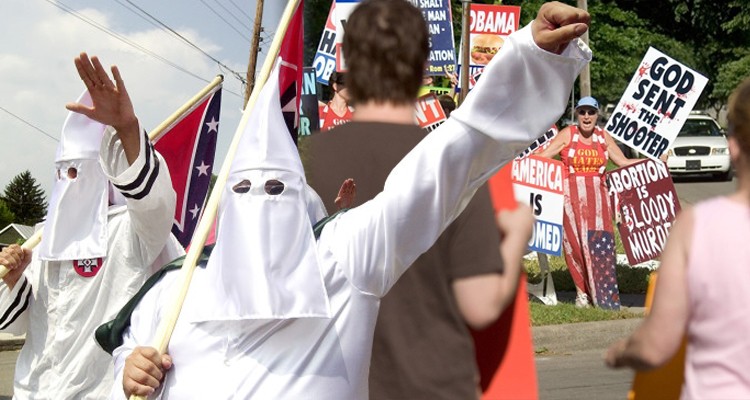 The anti-gay group, Westboro Baptist Church, promised to picket at the scene of the Newtown, Connecticut elementary school shooting.
WBC member Shirley Phelps-Roper tweeted: "Westboro will picket Sandy Hook Elementary School to sing praise to God for the glory of his work in executing his judgment."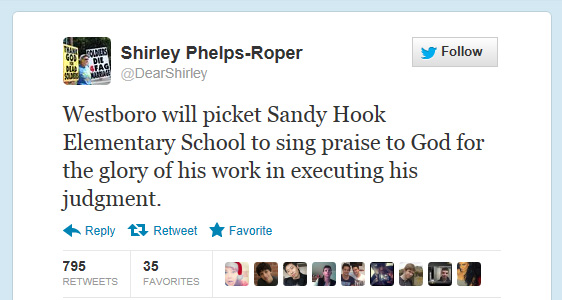 Westboro's URL is GodHatesFags.com and the members can usually be found picketing fallen LGBT soldiers and celebrity funerals. In a word, they are crazy—so crazy in fact that the Ku Klux Klan has counter-protested them in the past. When the KKK steps in as the voice of reason, you know you are dealing with the bottom-of-the-barrel crazy.
Dennis LaBonte, the self-described "Imperial Wizard" of the KKK group had to say about the antics of the Westboro Baptist Church:
Knights of the southern cross, soldiers of the Klu Klux Klan, we are here in protest of the Westboro Baptist Church. I'm a veteran. I've spent nine and half years in the military. I've got brothers and sisters buried in this cemetery, and I think that it's an absolute shame that they show up and disrupt the funerals.
Abigail Phelps, the daughter of Westboro Baptist Church founder Fred Phelps, said "that's fine," adding
They have no moral authority on anything. People like them say it's white power … white supremacy. The Bible doesn't say anywhere that it's an abomination to be born of a certain gender or race.
Anonymous – @kyanonymous, an Internet 'hacktivist' has taken credit for hacking the WBC website and has sent a message to the church in a video for the Westboro group. Anonymous explains that the church's hate supersedes reason and they warn:
We will not debate, argue or attempt to reason with you. Instead we have unanimously deemed your organization to be harmful to the population of the United States of America and therefore have decided to execute an agenda of action which will progressively dismantle your institution of deceitful pretext and extreme bias…We recognize you as serious opponents and do not expect our campaign to terminate in a short period of time.
(Visited 338 times, 1 visits today)