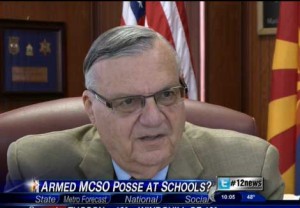 Arizona Sheriff, Joe Arpaio, has announced plans to deploy his all-volunteer posse to guard Phoenix area schools in the wake of the recent shooting at an elementary school in Connecticut.
In the video below, Sheriff Arpaio tells local news station, KTVK-TV, that he has full authority to mobilize armed private citizens to fight crime, including patrolling area schools.
"I have the authority to mobilize private citizens and fight crime in this county," he said, announcing his plan, Thursday.
He went on to note that he does not plan to put civilians inside schools but will have them posted around the perimeter instead.
However, AZ Family talked to a volunteer posse member who indicated that
But if our lives were threatened or a child's life was threatened, a teacher's life was threatened and we see that while on patrol, we would be prepared to take some kind of action.
(Visited 3 times, 1 visits today)