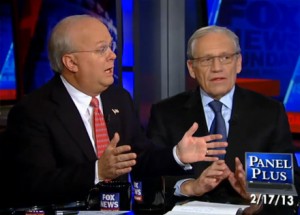 Watch the 'FOX News Sunday' panel below with Karl Rove, Bob Woodward, Kim Strassel and Juan Williams, as they discuss sequestration, in Fox News'  web exclusive panel discussion following Fox News Sunday.
The discussion ended with some brief humor following Woodward's suggestion: "Could I make a proposal? We need a new Constitutional Officer for the country – and that is psychiatrists in Washington who could sit down and work these things out."
You can watch the full panel discussion below.
(Visited 12 times, 1 visits today)