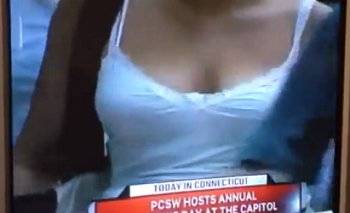 A FOX affiliate in Connecticut thought it was a great idea to celebrate Women's History Month by using video highlighting women's breasts because BOOBS ARE FUN! Notice that in the footage, the faces of the women were not included. When boobs are in the shot, who needs FACES???
The fact that FOX has video loops of breast shots shouldn't be questioned. BOOBS ARE FUN!
FOX aired this and they should be patting themselves on the back for excellence in journalism,  but some angry feminist must have complained because they tweeted and apology: "FOX CT apologizes for today's file footage error. We will continue to recognize great contributions of women in CT and around the world."
I am a feminist, or at least I was. Things like this used to offend and upset me. But now I get it. Boobs are more interesting than Alice Paul, who had boobs. She won women the right to vote. She went to jail, was force-fed raw eggs until she vomited blood, but what history should really be focusing on are her boobs and nothing but her boobs.  Of course we can't forget the wonderful boobs that belong to other feminist leaders like Gloria Steinem, Maria Shriver and Elizabeth Warren. They should be mentioned. And if their boobs have't already been photographed, we need to get right on that. In fact, I am really hoping FOX decides to collect footage of famous feminist's boobs and create a loop they can use for any story they may do about women. No matter the topic.
Here's the video and remember, BOOBS ARE FUN!
[contentblock id=3 img=gcb.png]
(Visited 33 times, 1 visits today)