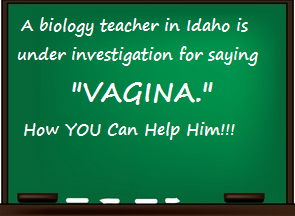 Tim McDaniel, a high school biology teacher in Idaho, is under investigation by the state's professional standards division for using the word vagina in a biology lesson.
Read the full story HERE.
The students feel McDaniel was targeted because of a political agenda. In a community that is heavily populated by Mormons, McDaniel is daring to teach climate change and accuracy about the human reproductive system. This is proving to be too much for some parents.
The students have created a Facebook event page. They ask that you join (you can join but do not have to attend anything—just write a post on the page in support of the teacher).
The deadline to add your comment is today, March 28.
Please join the event and let the school, parents and the state professional standards division know that McDaniel did nothing wrong.
Join the event on Facebook HERE.
Kimberley A. Johnson (BIO) – A.K.A. The Anti Coulter is the author of The Virgin Diaries and an activist for women's rights. Like her on Facebook, Twitter or friend her on FB HERE.