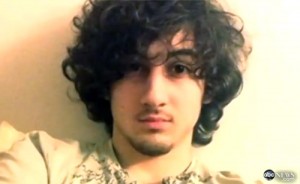 It is being reported that alleged bomber Dzhokhar Tsarnaev is cooperating with authorities and admitting his role in the recent attack at the Boston Marathon.
Tsarnaev is reportedly telling interrogators that most of the planning and execution for the attack was accomplished from the internet with no direction from overseas.  He claims they used an al-Qaeda site offering descriptions for making bombs like those used at the Boston Marathon.
According to authorities he also stated that the decision to target the Boston Marathon only came about the last few weeks.
As to his inspiration for the bombing, he told interrogators that he and his brother had been following the online preachings by Anwar al Awaki, an American and Yemeni imam and senior talent recruiter and motivator who was involved in planning terrorist operations for the Islamist militant group al-Qaeda. And in spite of his family ties and trips to Chechnya, it was his elder brother's hatred of America that supposedly motivated the attack.
You can watch a news clip courtesy of ABC News below:
(Visited 12 times, 1 visits today)