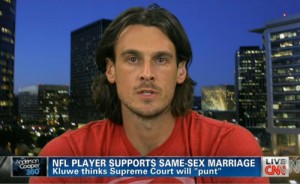 Minnesota Vikings punter Chris Kluwe was interviewed by CNN 360's Anderson Cooper.
His comments are some of the most intelligent words spoken by a straight man on why gays must win the right to marry, and why no players have come out in major sports. Watch:
Here's a great piece penned for CNN by Mr. Kluwe, and here is his scathing article on Deadspin about what actually happened to him after he did appearances like this one.
(Visited 19 times, 1 visits today)