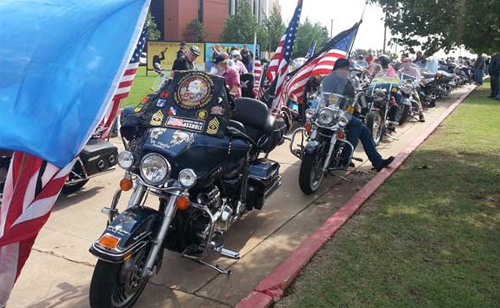 The people of Oklahoma, hacktivist group Anonymous, and hundreds of bikers from the Patriot Guard (a group of bikers) joined together to protect the family and friends of 9-year-old Nicolas McCabe who was killed in the Moore, OK tornado.
The Westboro Baptist Church had announced plans to protest McCabe's funeral but bikers and strangers defended the doors of the church, as they stood in silence in a well organized effort to protect the family and friends of Nicolas McCabe.
Concerned about the Westboro Baptist Church plans, McCabe's family and reached out to Patriot Guard SE Oklahoma for help.  A Facebook page, KEEP Westboro AWAY, was quickly established to distribute information and the Patriot Guard SE Oklahoma Yahoo Group was used to help organize help. Others joined in to assist as well such as  the Facebook pages Moore OK Connect and Pray for Oklahoma City.
The Patriot Guard quickly distributed several messages to their membership such as the one below:
**BRAVE RIDERS WHO ARE DEFENDING THE FAMILY OF NICOLAS MCCABE!!**

24 May 2013 -1000 AM, Friday, Nicolas McCabe, Moore, OK, NON-MISSSION

The family of Nicolas Scott McCabe has requested the presence of all motorcycle riders and others that would like to pay respect to their son. He passed away during the Moore, OK tornado on 20 May 2013.
This is a NON PGR MISSION, but we will follow similar protocols to maintain an efficient and orderly process. No flags will be used for a flag line, just us standing tall and silent.

Staging: 0900 – At First Baptist Church of Moore, 301 NE 27th in Moore, OK –Corner of 27th and I-35.
Briefing: 0910 – Must be present to ride the escort – This is at the directrequest of LEO Officials.
Service: 1000 – at same location as staging above.
KSU: Immediately following the church service.

All attendees will be there for the purpose of showing respect and support for Nicolas and his family. His family is concerned about the possible protest situation and this has been a valid concern for the Moore, OK area. They feel a large presence of support would lift them during this emotional event.

We will stand proud for this young man as the family, friends, and guests arrive for the service at the church and then stand down until services have completed.

Once again we will stand tall and silent for Nicolas as he is moved to the coach. We are invited to ride in the escort to Resthaven Cemetery at SW 104th and Western Ave in South OKC.

We will stand a line at the grave site by surrounding the family and friends as a show of support until this service concludes. All would be dismissed at this time.

Event Leaders – Randy & Sharon Gilreath
Notices, such as the one below, were also distributed throughout social media to assist in the efforts to protect the funeral:
There were even efforts made to track the location of members of the Westboro Baptist Church as well as to deny them services while in the area:
You can watch a video of the bikers in action below:

Christian Bikers Protect 9 Year-Old Tornado Victim's Funeral From Westboro Protesters from untilweflyaway on GodTube.
(Visited 27 times, 1 visits today)