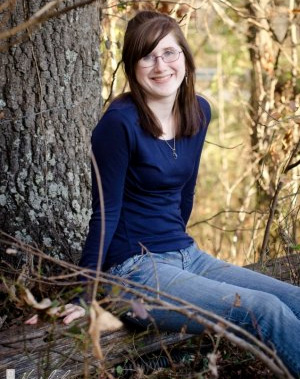 Last month, Katelyn Campbell refused to attend an abstinence only assembly at George Washington high school in West Virginia.  The story made national headlines after her principal, George Aulenbacher, allegedly threatened to tell Wellesley College, where she has been accepted, that she has "bad character" and that she is a "backstabber." Campbell subsequently contacted the local newspaper with the story and reported the incident to the ACLU.
In a statement to Liberals Unite, Campbell reports that Principal Aulenbacher has informed her at the last minute she and other students will not be speaking during the commencement exercises, despite being led to believe they would:
"This morning, I and several others were called into Mr. Aulenbacher's office for a brief meeting. For several months, all of us had been told that as highest honors graduates, we would be permitted to speak briefly on the topics of our choice during our commencement exercises. Each of us had prepared a presentation and we were eagerly awaiting graduation in hopes of leaving a final mark on our graduating class. Mr. Aulenbacher made the decision that this would not be so.

Recently, Mr. Aulenbacher decided to only allow the top two in our class to speak at graduation. Frustrated, hurt and confused, my fellow highest honor grads and I tried to reason with him, but to no avail.

Following our meeting, Obadah Moushmoush and I drove to the Board of Education office and spoke with Kanawha County Superintendent Dr. Ron Duerring. Obadah and I told him of our plight and asked if this was part of a larger county oversight, to which Duerring replied yes: since last year's graduations, the county has moved toward a more streamlined policy on graduation exercises. Duerring said that in his memo to principals, he suggested that the principals only allow two student speakers to present. Although I understand why this policy of streamlining was put in place, I am saddened that even with this knowledge, Mr. Aulenbacher allowed students to prepare and submit speeches with the intention of actually delivering them. Said highest honor graduate Kate Webster, "I've never really been that involved at GW, and I felt like this was my last chance to make my mark." Thanks to this last minute oversight, literally a week before our graduation, Kate's mark will not be made. Neither will mine. Neither will Obadah Moushmoush's. Neither will several others. And that, I think, is what makes this situation so ludicrous to me."
In a BBC interview with Woman's Hour, Katelyn describes what kind of response she's received since she reported Aulenbacher's threats to the ACLU. She describes support from the liberal community, but she has also experienced backlash from her own community and even reports that a fellow student spat at her.
One might assume that the decision to cut Campbell from the list of speakers was simply a way to expedite the ceremony, but it does seem curious this decision comes after the principal was shown to be a bully.
Fortunately, Wellesley College has made it clear to Katelyn and the world, via tweet, that she is welcome and this incident will, in no way, hurt her chances to study at the esteemed institution.
West Virginia voted Republican in 2012 and has a large  Christian population. Liberal attitudes are frowned upon. What we are seeing is a growing number of young people who are rejecting the idea of "purity" and the recognition we all can make a difference when we stand up for what we believe in, even when it goes against the political and religious views of the local community.
Kimberley A. Johnson (BIO) – A.K.A. The Anti Coulter is the author of The Virgin Diaries and an activist for women's rights. Like her on Facebook, Twitter or friend her on FB HERE.
(Visited 42 times, 1 visits today)