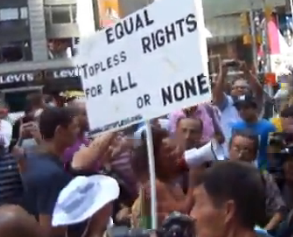 Women are now legally free to roam bare-breasted in New York City.
In February of this year, 34 thousand New York City police officers were instructed that if they encounter a topless woman in public who is not breaking any laws, they are not to arrest her. If a bare-breasted woman happens to draw a crowd, officers are to "give a lawful order to disperse the entire crowd and take enforcement action" against those who do not comply. "Whether the individuals are clothed is not a factor in making a determination about whether the above-mentioned crowd conditions exist."
Policymic reports:  "In the 1992 case People v. Ramona Santorelli and Mary Lou Schloss, the New York Court of Appeals ruled in favor of two women who were arrested with five others for exposing their breasts in a Rochester park, holding the law void as discriminatory. The ruling was put to the test in 2005, when Jill Coccaro bared her breasts on Delancey Street in New York, citing the 1992 decision, and was detained for twelve hours. She subsequently successfully sued the city for $29,000."
On Wednesday, Bronx photographer and performance artist Holly Van Voast, who is known for baring her breasts in public, filed a federal lawsuit against the city and police department citing the February instruction. The lawsuit cites ten incidents in 2011 and 2012, in which Van Voast was detained, arrested or issued a summons for baring her breasts in public places—The Oyster Bar in Grand Central Terminal, in front of an elementary school and on the A train outside of a Hooters restaurant in Midtown.  The suit notes that the Hooters incident led to police taking Van Voast to a hospital for psychiatric evaluation. Each complaint was dropped because of a law penned more than two decades ago that says that baring one's chest in public for noncommercial activities, is as legal for a woman as it is for a man.
In America, men are allowed to go topless in any public place. But when we see a mother breast-feeding in public, all hell breaks loose because she is exposing the world to pornography. Facebook considers breast-feeding pictures to be inappropriate and cause for shutting pages down, yet pages dedicated to nude women and rape are just fine, according to Mr. Zuckerberg.
When you break it down, the message is that men have absolutely no control, and when they are exposed to mammary glands, they are unable to rein in their primal urges to rape.
We all know this is ridiculous, and rape has nothing to do with sex or sexual pleasure. Rape is about using sex as a form of control.
The recognition of this law may be a fantastic step in the right direction to slowly chip away at the hypocritical views this country has about nudity and women.
How long will it take Tea Party Conservatives to spin this into a tale of how women are blatantly encouraging sin and ruining the American family? I can hardly wait for Rush Limbaugh to weigh in.
(Visited 145 times, 1 visits today)