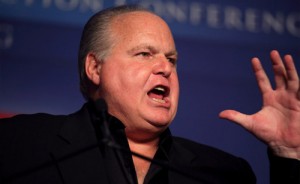 Oh the sweet sound of nothing for 100 seconds of  'dead air' on the Fox News Radio Network's Rush Limbaugh Show. What does that mean? It means Limbaugh is losing the war. It means the American public and consumers are winning, and it's another unmistakable sign that Limbaugh's days as 'King of Hate Radio' are over.
A very bad year it's been for Rush Limbaugh. For decades, he has spun his blatant racism, sexism and bigotry. He has no filter, no shame. There are lists of his offenses. It's nothing for him to mock a disabled man, call a little girl ugly, link same-sex/equal marriage to pedophilia or make demeaning remarks about the poor and homeless. He can be quite the idiot as well, saying there was never a national budget surplus under President Clinton or calling global warming a 'hoax.' Media Matters  has an archive of audio/text going back six years, containing a plethora of malicious commentary for anyone to check.
The public's pot was already boiling, and then Rush Limbaugh went and did the dirty. He called an unknown law student, a 'slut' and a 'prostitute' on the air, not once – but for three days straight. Why? Because she was advocating for insurance-covered birth control. Social media went wild! He simply pressed the wrong button. One of the first comments in a petition started days later, was someone Brooklyn, NY, who said, " I am a TEA PARTYER, but this was over the line."
Limbaugh's parent company, Clear Channel, and the FCC did not budge. So the people took matters into their own hands and began contacting his sponsors, telling them they would not buy products that supported or sponsored the Rush Limbaugh Show. What happened? Over 2600 sponsors pulled their ads to date. And the results? DEAD AIR
Here is the audio from the Rush Limbaugh Show:
youtube
please specify correct url
Hope to hear more dead air on his show. Of course for years, we've heard his plenty of 'nothing.' But dead air  – this is true  music to our ears. It's thanks to the hundreds of thousands of people who have signed petitions, contacted sponsors, boycotted his sponsors… it's all NOT working for El Rushbo.
To help put an end to Rush Limbaugh's 'hate radio' here are ways you can get involved:
Sign: The Rush Limbaugh/Clear Channel Petition  
Join: Boycott Rush Limbaugh Facebook Group and 
Join: FlushRush Fight Group
Visit: The StopRush Database
There are Limbaugh Sponsor Browser App, Poems, Quote Lists, and a new Limbaugh Petition to the Military.  Some of the larger groups who support the protests include: UniteWomen.org, Daily Kos, and Liberals Unite. (Special thanks to ProgLegs for posting the audio clip in Daily Kos)
---
| | |
| --- | --- |
| | Leslie Salzillo is an activist, political commentator and visual artist. She began contributing to Liberals Unite in June of 2013. |