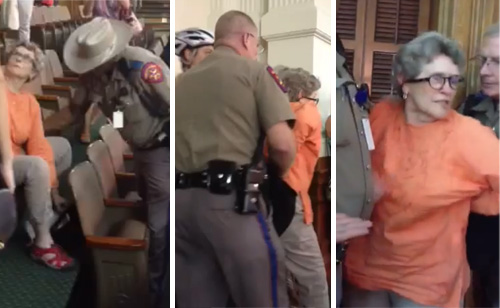 Martha Northington, a 72 year old woman, was arrested in the Texas Senate gallery, booked at the Travis County jail, and charged with at least one felony, assaulting an officer, as well as resisting arrest.
The incident occurred while Senator Wendy Davis was filibustering SB5, the controversial abortion ban.
The video, shot by Elizabeth Willmann, shows no evidence of Northington assaulting an officer. You can hear her shout "You're hurting me" as she was manhandled by law enforcement.
According to Burnt Orange Report, an eyewitness in the booking room says that though she was originally charged with at least one felony, that charge was later reduced. The witness said the officer appeared to be unsure what he was willing to actually charge her with and had trouble filing his report.
Northington is now out of jail.
Round two happens on Monday, July 1. If you live in Texas, please consider showing up to protest. We need to show Republicans we will not be bullied. We will fight!
---