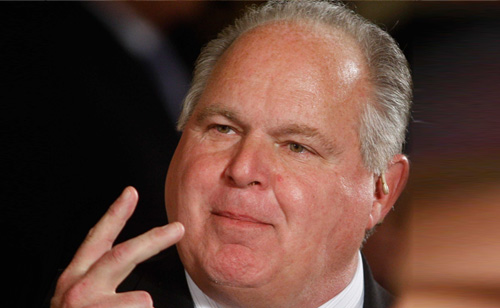 Not a good week for RushLimbaug at all.  Once again, America proves the failing talk show host, to be on the wrong side of history and public opinion. You could say Limbaugh has been 'spot off ' when it comes to women, LGBT, racism and immigrant issues. And last week the  Supreme Court and the state of Texas sent Rushbo's hate agenda, all askew.
Limbaugh is known for continuously, and publicly, promoting the degradation of women on his show. On Tuesday, Senator Wendy Davis, women's rights organizations and supporters from around the country, stood their ground and roared their objections to the anti-choice SB5 Bill, considered to be the most restrictive anti-choice bill in Texas history. They then, roared their joy, as the president of Planned Parenthood, Cecile Richards, delivered good news from Davis, that the bill was dead. Sure, we've got anti-choice misogynists like Governor Rick Perry calling for a second session on the bill, but that has only re-ignited and  re-enforced  support  for Davis, who is now looking to be a prime candidate for TX governor. Davis may even turn the state Blue. Ouch to GOP – as well as Rush.
And of course, Limbaugh is known for promoting hatred towards lesbians and gays, linking  same-sex marriage to pedophilia, sex with children and sex with animals. And also last week, the Supreme Court announced its ruling to overturn DOMA.  This decisions affords equal marriage rights to lesbians and gay couples living in states that have passed same-sex marriage.  BAM to Limbaugh!
Can it get better? Yes it can. The Supreme Court also overturned Proposition 8, which means  same-sex marriage is now fully legal in the state of California. Limbaugh has been eating crow for breakfast, lunch and dinner all week.
Wait, there's more. You know how Limbaugh calls undocumented immigrants, invasive species, and spermatozoa?  The Senate passed sweeping bipartisan immigration reform bill on Thursday. Sure it's has tough days ahead with the House GOP, but it's a start – and you know it's just unraveling Rush.
It's not hard to imagine what Limbaugh has had to say – something about, 'the disintegration of America'… blah, blah, blah. And he is lying again, saying, nobody in this country has ever been denied the right to get married… And he's a downright mess in this clip:
He's now preaching to a choir that is dwindling fast. The 'hate radio' host who has been promoting malicious commentary for decades, has been paying dearly this year from protests and boycotts against him. With each hateful word, he is seeing more of his sponsors dash for the exit signs.
So it was a very good week for America as we to celebrated equal rights and women's rights victories, and at the same time, we got to watch Rush Limbaugh fidget, fluster and stew. 'Twas frosting on the cake.
---
| | |
| --- | --- |
| | Leslie Salzillo is an activist, political commentator and visual artist. She began contributing to Liberals Unite in June of 2013. |