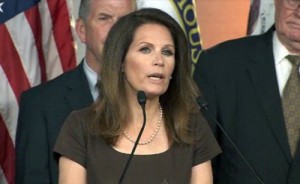 Rep. Michele Bachmann, R-Minn., reacts to the Supreme Court's decisions on Prop 8 and DOMA Wednesday.
The Minnesota Congresswoman released a statement condemning the Supreme Court  in their decision to strike down the Defense of Marriage Act:
Washington, D.C. — Congresswoman Michele Bachmann (MN-06) released the  following statement in response to the Supreme Court's decision on the Defense  of Marriage Act:

Marriage was created by the hand of God. No man, not even a Supreme Court,  can undo what a holy God has instituted.

For thousands of years of recorded human history, no society has defended the  legal standard of marriage as anything other than between man and woman. Only  since 2000 have we seen a redefinition of this foundational unit of society in  various nations.

Today, the U.S. Supreme Court decided to join the trend, despite the clear  will of the people's representatives through DOMA.

What the Court has done will undermine the best interest of children and the  best interests of the United States.
Visit NBCNews.com for breaking news, world news, and news about the economy
(Visited 5 times, 1 visits today)