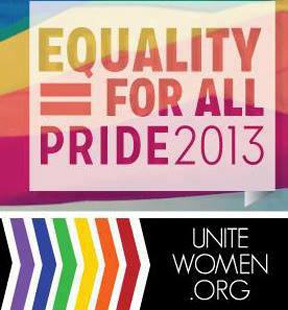 If ever there was a period of time that demonstrates the effectiveness of activism, it is now. The defeat of SB5 in Texas and Supreme Court rulings on the Defense of Marriage Act and Proposition 8 is the culmination of so many people standing up to inequality in so many ways…but standing together.
We need to acknowledge each other in our shared fight…those on the ground protesting, those directly working with our elected officials to engage them in the battle, those making phone calls, writing emails, tweeting, sharing posts on Facebook and so any others. Working together, we moved equality forward. We could not have accomplished these results without the shared effort of everyone.
But we are not done. Let us all celebrate today but then we need to get back to work.
The entire nation was watching what took place in Texas. So many states have already passed the equivalent to SB5 and many more are in the wings. The U.S. House will continue to pass bills taking away a woman's right to choose. Imagine if we didn't have a Senate or President to stop those bills from becoming law.
While today's DOMA ruling should be celebrated, it did not bring marriage equality to our entire country. Marriage equality still has to be passed in every state.
We have momentum on our side. If we are going to achieve true equality, we must work hard in every election to make sure those candidates standing for our rights are elected. We had a special election yesterday in Massachusetts. Many activists were making phone calls, driving people to the polls and knocking on doors to make sure that Senate seat was filled by someone standing for our rights. Let's also get people who stand with us to run for office! There are many other elections equally important coming up yet this year and of course the mid-terms in November of 2014. Special elections and mid-terms traditionally have very low turn-out. Let's work together to make history by having the largest turn-out ever!
We all need to keep protesting, bringing awareness through social media, phone calls and emails, and engaging our elected officials to bring about true equality for all. All of us at UniteWomen.org are more determined than ever to keep fighting with all of you to continue this tremendous momentum.
---

(Visited 6 times, 1 visits today)