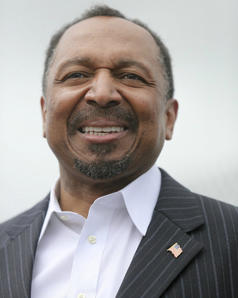 The Republican nominee for lieutenant governor of Virginia, E. W. Jackson, wrote a book released in 2008 titled Ten Commandments to an Extraordinary Life. In this unpopular book, Jackson claims that birth defects are a result of sin.
"Keep in mind that the whole cosmos has been made imperfect — wounded — by sin. It is the principle of sin, rebellion against God and His truth which has brought about birth defects and other destructive natural occurrences. Leaving aside that for a moment, recent discoveries about the genetic code of each human being are a fulfillment of scripture. Your genetic code is the handwriting of God, written before you or the world existed. Our genetic blueprint is proof of the existence of the Living God and His infinite intelligence, purpose and design. Sadly, many will ignore the deeper spiritual truth which underlies the advance of this scientific knowledge."
This from the man who also claims that Yoga may result in satanic possession.
Jackson made a video, below where he proclaims "Planned Parenthood has been far more lethal to black lives than the KKK ever was."
Jackson is so controversial that Virginia Attorney General Ken 'Outlaw Oral Sex and Sodomy' Cuccinelli wants to distance himself from the minister. Now that's really saying something!!!
(Visited 9 times, 1 visits today)