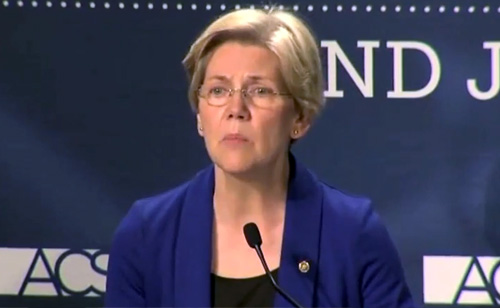 I do love this woman. Senator Elizabeth Warren (D-MA) continues to show us she is here for the people.
Since taking office this year, she has challenged, 'Big Banks', the SEC and the Federal Reserve. Warren has probed into mortgage fraud, introduced a bill demanding students receive the same interest rate for student loans, as is given to Big Banks, and she has battled cuts in Social Security. So it's not surprise to hear that last week she took on the massive corporate interests in our federal court system. She cares not about who or how large of an entity she goes after, and she is taking no prisoners – well, except for the corrupt; She would gladly walk them to jail.
At this year's American Constitution Society for Law and Policy National Convention, Warren gives a speech of warning as to where the federal courts will end up if we don't address those with big money/corporate interests, who are too easily buying into our judicial system. Warren states:
"…In Washington, power is not balanced. Indeed, power is becoming more concentrated on one side. There are powerful, deep-pocketed, corporate interests lined up to fight to protect their privilege, and to resist any change that would limit corporate excesses. Powerful corporate interests understand if they can rig the courts, a friendly judicial system will give them a second bite at whatever they want."
Senator Elizabeth Warren is able to articulate the changes Americans have been aching to see. She wastes no time and has little patience or compassion for the greedy and corrupt – and we love it. We love watching her fearlessly and relentlessly go where few politicians will go, as she plows through her agenda for positive change. There is talk, and little doubt, Elizabeth Warren would be a qualified contender in the 2016 Presidential Election.
See the rest of her 5-minute speech in this video:
---
| | |
| --- | --- |
| | Leslie Salzillo is an activist, political commentator and visual artist. She began contributing to Liberals Unite in June of 2013. |
(Visited 34 times, 1 visits today)