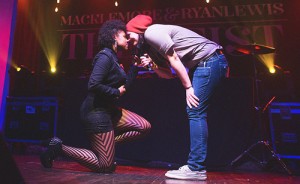 This story is, for the most part, is all kinds of wonderful. I came across a video via my daily emails of Danielle Powell's onstage proposal to her now wife, Michelle, at the Macklemore & Ryan Lewis show in Omaha, Nebraska at the Sokol Auditorium.
The love of this couple and the love pouring out from the crowd in the video, brought tears to my eyes. After watching the video, I learned that Danielle Powell had been greatly discriminated against by Grace University – more than once. Danielle's wife, Michelle Rogers started a petition, which I excerpt and link below.
Grace University, needs some education: Love is love, and, you don't get to charge for discrimination.
"My wife, Danielle Powell, was kicked out of Grace University because she is gay. As if that's not bad enough, now the school is forcing her to pay back her scholarship money, because they say she wasn't "moral" enough to deserve that scholarship."
"In the spring 2011, that dream came to an end when university officials found out Danielle was in a same-sex relationship and expelled her from school just one semester short of graduation. She was told, "…it would be impossible for the faculty of Grace University to affirm your Christian character, a requirement for degree conferral." Danielle's life was completely turned upside down and her academic career ended simply because she fell in love with another woman."
"Being kicked out of school for being gay would have been awful enough — but Danielle's nightmare didn't end there. In addition to being expelled, school officials revoked her scholarships and are hounding her for $6000 in back due tuition for the final semester — which she was never allowed to complete — that her scholarships would have covered."
Here is the video of the couple's marriage proposal and the amazing crowd support:
---
| | |
| --- | --- |
| | Leslie Salzillo is an activist, political commentator and visual artist. She began contributing to Liberals Unite in June of 2013. |