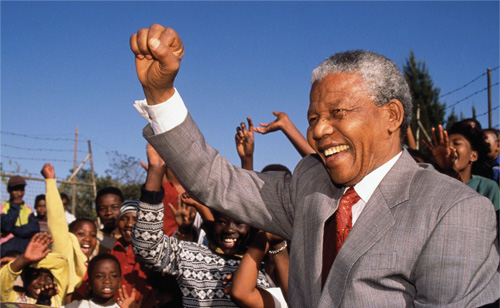 We should all take a moment ot reflect on this great man's words of wisdom.
Below is a list of some of our favorite Nelson Mandela Quotes.
1. "A Nation should not be judged by how it treats its highest citizens, but it's lowest ones" – Long Walk to Freedom
2. "And as we let our own light shine, we unconsciously give other people permission to do the same. As we are liberated from our own fear, our presence automatically liberates others." – Long Walk to Freedom
3. "Death is something inevitable. When a man has done what he considers to be his duty to his people and his country, he can rest in peace. I believe I have made that effort and that is, therefore, why I will sleep for the eternity." – From an interview for the documentary Mandela, 1994
4. "Education is the most powerful weapon which you can use to change the world." – University of the Witwatersrand South Africa, 2003
5. "Freedom is indivisible; the chains on any one of my people were the chains on all of them, the chains on all of my people were the chains on me." – Long Walk to Freedom: The Autobiograpy of Nelson Mandela with Connections
6. "For to be free is not merely to cast off one's chains, but to live in a way that respects and enhances the freedom of others." – Long Walk to Freedom
7. "I am fundamentally an optimist. Whether that comes from nature or nurture, I cannot say. Part of being optimistic is keeping one's head pointed toward the sun, one's feet moving forward. There were many dark moments when my faith in humanity was sorely tested, but I would not and could not give myself up to despair. That way lays defeat and death." – Long Walk to Freedom: Autobiography of Nelson Mandela
8. "I could not imagine that the future I was walking toward could compare in any way to the past that I was leaving behind." – Long Walk to Freedom
9. "I had no epiphany, no singular revelation, no moment of truth, but a steady accumulation of a thousand slights, a thousand indignities and a thousand unremembered moments produced in me an anger, a rebelliousness, a desire to fight the system that imprisoned my people. There was no particular day on which I said, Henceforth I will devote myself to the liberation of my people; instead, I simply found myself doing so, and could not do otherwise." – Long Walk to Freedom
10. "I have fought against white domination, and I have fought against black domination. I have cherished the ideal of a democratic and free society in which all persons will live together in harmony with equal opportunities. It is an ideal which I hope to live for, and to see realised. But my Lord, if needs be, it is an ideal for which I am prepared to die."- Defence statement during the Rivonia Trial, 1964
11. "I was called a terrorist yesterday, but when I came out of jail, many people embraced me, including my enemies, and that is what I normally tell other people who say those who are struggling for liberation in their country are terrorists. I tell them that I was also a terrorist yesterday, but, today, I am admired by the very people who said I was one." – Larry King Live, 16 May 2000
12. "If you want to make peace with your enemy, you have to work with your enemy. Then he becomes your partner." Long Walk to Freedom
13. "In some ways, it is easier to be a dissident, for then one is without responsibility." – Long Walk to Freedom
14. "No one is born hating another person because of the colour of his skin, or his background, or his religion. People must learn to hate, and if they can learn to hate, they can be taught to love, for love comes more naturally to the human heart than its opposite." – Long Walk to Freedom.
15. "People must learn to hate, and if they can learn to hate, they can be taught to love, for love comes more naturally to the human heart than its opposite… Man's goodness is a flame that can be hidden but never explained." – Long Walk to Freedom
16. "Success in politics demands that you must take your people into confidence about your views and state them very clearly, very politely, very calmly, but nevertheless, state them openly." – Conversations With Myself
17. "There is a universal respect and even admiration for those who are humble and simple by nature, and who have absolute confidence in all human beings irrespective of their social status." – Conversations With Myself
18. "What counts in life is not the mere fact that we have lived. It is what difference we have made to the lives of others that will determine the significance of the life we lead." – 90th birthday celebration of Walter Sisulu, Walter Sisulu Hall, Randburg, Johannesburg, South Africa,18 May 2002
19. "Without language, one cannot talk to people and understand them; one cannot share their hopes and aspirations, grasp their history, appreciate their poetry, or savor their songs." – Long Walk to Freedom
20. "You sharpen your ideas by reducing yourself to the level of the people you are with and a sense of humour and a complete relaxation, even when you're discussing serious things, does help to mobilise friends around you. And I love that." – From an interview with Tim Couzens, Verne Harris and Mac Maharaj for Mandela: The Authorised Portrait , 2006, 13 August 2005
(Visited 4 times, 1 visits today)