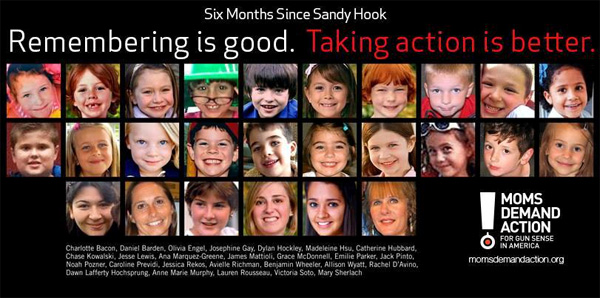 After the Aurora, Colorado Shooting and the senseless mass murder of 20 children and six adults at Sandy Hook Elementary, Senator John Morse (Dem-Colorado) took action and passed safer gun legislation in March. One of the laws limits firearm magazines to 15 rounds. Another requires background checks on all gun sales, online and offline.
"I've watched people die, and I've helped people not die," Morse says of gun violence that he's witnessed.
In retaliation, Morse, a former police chief and gun owner, is being targeted by NRA and gun extremists, who are taking action to have him recalled. Papers were filed by two candidates who plan to compete for his seat. The Denverpost.com calls the recall effort, "an abuse of political process." (We're familiar.)
And it gets worse. The gun extremists are taking advantage of the new Facebook rules enforced to help reduce violence against women. On several John Morse support pages, the NRA/gun trolls are falsely reporting posts and photos as 'porn.' This automatically deletes the photo/post, and can put a Facebook block/suspension on the account.
The trolls were able to get this photo removed. The Facebook message says, 'Your photo was reported for containing nudity or pornography…'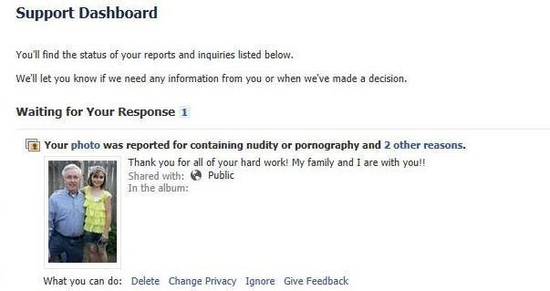 Sinking to a new low, the NRA trolls falsely reported a post by Jane Dougherty, whose sister, Mary Sherlock, a school psychologist, was murdered in the Newton Massacre. Dougherty's post was removed and she was blocked: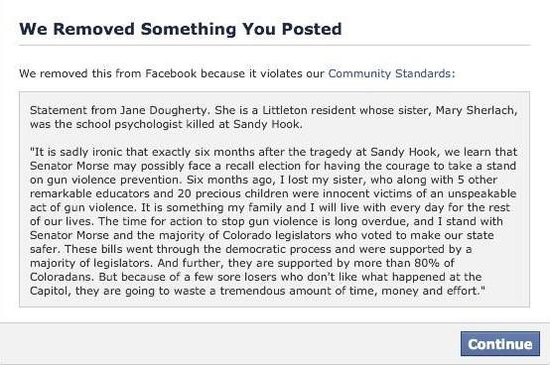 Several Facebook group administrators reported to me, that they were blocked/banned after posting Doughery's meme above. Oh, okay. I see. You get to violate our First Amendment Rights, to protect your so-called Second Amendment 'God-Given' Rights… And which God would that be?
I can't blame Facebook. The network has allowed millions of activists, around the world, to get their messages out to the masses, for free. And I applaud the social media giant for taking measurers to help eliminate sexual/extreme violence on their site. I don't know how Facebook will get around this. Perhaps they will fire back by blocking the accounts of anyone who is caught making false reports. These things can be so easily traced. I trust Facebook will find a way.
In the meantime, to support Gun Safety:
Occupy The NRA
Occupy The NRA (Facebook)
A Whole Lot A People For John Morse (Facebook Page)
Moms Demand Acton (For Gun Sense In America)
Here is a CBS video/interview with Senator Morse and a gun enthusiast. (The hatefulness and ignorance of the latter contains a very high cringe factor)
---
| | |
| --- | --- |
| | Leslie Salzillo is an activist, political commentator and visual artist. She began contributing to Liberals Unite in June of 2013. |