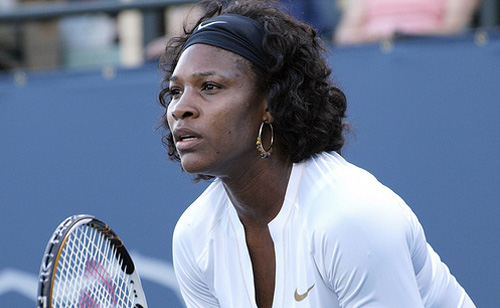 Serena Williams has responded to the controversy brewing around her recent comments in Rolling Stone regarding the Steubenville, Ohio, rape controversy.  You may recall that last night we published an Open Letter regarding this very issue.
Today, in response to the controversy,  Williams released an official statement which you can find on her website.
SERENA WILLIAMS STATEMENT

"What happened in Steubenville was a real shock for me. I was deeply saddened. For someone to be raped, and at only sixteen, is such a horrible tragedy! For both families involved – that of the rape victim and of the accused. I am currently reaching out to the girl's family to let her know that I am deeply sorry for what was written in the Rolling Stone article. What was written – what I supposedly said – is insensitive and hurtful, and I by no means would say or insinuate that she was at all to blame.

I have fought all of my career for women's equality, women's equal rights, respect in their fields – anything I could do to support women I have done. My prayers and support always goes out to the rape victim. In this case, most especially, to an innocent sixteen year old child."
The intent of our letter was to ask Serena to please reconsider her words of victim blaming and invite her to a conversation.  There are so many who simply do not know how rampant the rape culture is of victim shaming and excusing the perpetrators.
Our goal with Unite Against Rape is to build that awareness and give survivors a voice coming from knowing they are not to blame.
Some say victims need to take responsibility for their actions…what they wear, what they drink, where they go. They are correct to a degree.  We all need to take responsibility for our actions. But who are we to judge anyone by how they dress?  Even if one was walking down the street naked, it is not an invitation to rape. The majority of us have been drunk at some time in our lives, but it is not an invitation to rape. I would venture to guess that most of us have been to a party at some point in our lives, but it is not an invitation to rape.
You see, by putting the responsibility on the person committing rape, it does not mean the victim is not responsible for her or his actions. But it in no way means that those actions were an invitation to rape!
We hope many more will follow Serena Williams' lead in reflecting on her words and through her statement, join all of us in uniting against rape and the culture of victim blaming.
If you would like to submit for the Unite Against Rape program, please email a high resolution photo and quote to [email protected]
Karen Teegarden
President/CEO
UniteWomen.org
---

(Visited 8 times, 1 visits today)