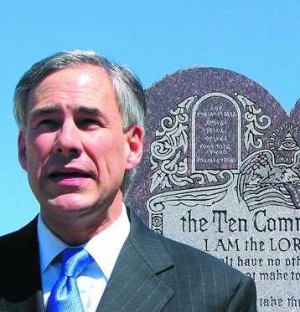 Today as the Supreme Court ruled on voting rights, Texas Attorney General, Greg Abbot, made his smug statements within hours of the SCOTUS decision:
"With today's decision, the state's voter ID law will take effect immediately," Abbott said in a statement to the Dallas Morning News. "Redistricting maps passed by the Legislature may also take effect without approval from the federal government."
Texas GOP, shows no shame in its agenda to keep their most likely voters in the majority, and suppress the voting rights of blacks, hispanics, the elderly and the poor – all of whom most likely voted for President Obama, and would continue to vote for a U.S. President and Congress who would protect their civil and economic rights. National Journal reports: Although the Justice Department still maintains the right to approve voting-rights laws in counties that have historically implemented discriminatory laws against minorities, Congress now needs to determine those areas. The high court threw out Section 4, which defined those areas as including Alabama, Alaska, Arizona, Georgia, Louisiana, Mississippi, South Carolina, Texas, and Virginia, and other precincts.
Here are some of Abbott's tweets announcing the state's decision: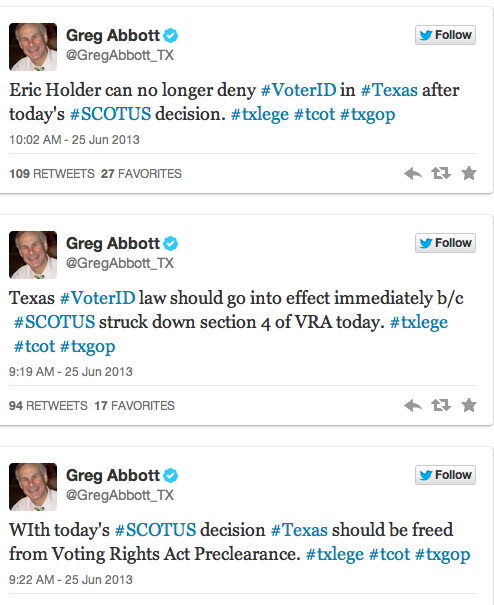 Having voters required to have photo identification sound reasonable to many who might not understand this law can be, and has been, abused in the hands of the politically corrupt.
Texas Republican lawmakers once again show there true color(s). That color would be White.
Let's hope the SCOTUS gives better news with the remaining issues of Gay Rights and Affirmative Action. I'm hoping today's decision is perhaps a pacification for the GOP, so they can blow the Republican Party out of the water with equal marriage rights. Nonetheless, this is very disappointing. Here is a video discussing all three issues prior to today's decision:
Something we can do:

Please sign this New Daily Kos/Color of Change Petition to support an amendment that guarantees the freedom to vote for all.
---
| | |
| --- | --- |
| | Leslie Salzillo is an activist, political commentator and visual artist. She began contributing to Liberals Unite in June of 2013. |