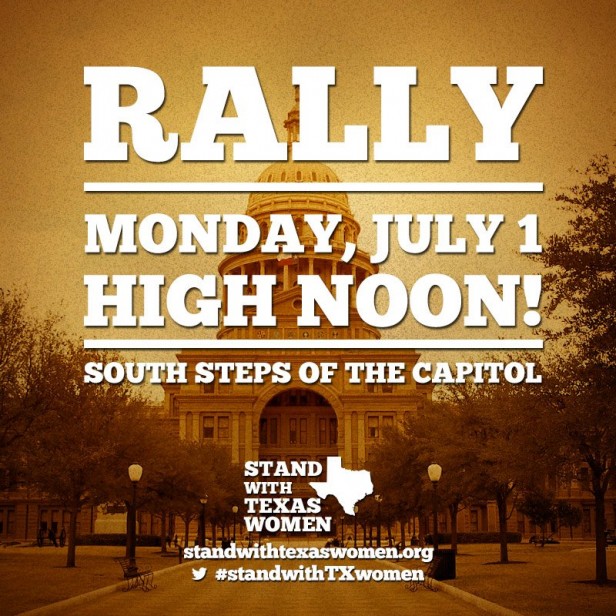 Monday should be a pretty exciting day to watch American democracy at work. Much of the country's media will be focused on the State Capitol in Austin, Texas where thousands are expected to show up and rally for women's reproductive rights.
This past week, Senator Wendy Davis began a 12-hour filibuster against the anti-abortion Bill SB5. Along with the support of the pro-choice supporters in Texas, women's rights organizations from around the country, and those of us watching live around the world, we witnessed a roaring stand-off that eventually killed the bill and made a bit of political history. Days later, Governor Perry not only called for a second session on the bill, (par for the GOP) he also made insulting and demeaning attacks towards Senator Davis while speaking at national right to life conference.
What Perry may not have realized at the time was, his anti-choice/anti-women tactics and words, would set off a backlash that's about to make his huge U.S. Presidential Primary Debate blunder, look like a bad high school test grade. Bless his little heart. He's about to get blown off his Texas seat, along with all the other Republican lawmaking misogynists and 'gynoticians.' You would think the 2012 elections would have been enough for them to learn not to mess with women. Bye-Bye Red Texas. Hello, Blue State.
Another exciting aspect of this event is the solidarity it seems to be creating between women rights groups around the country:
"While women's reproductive rights are being challenged in many states across the country and now in the U.S. House, what has taken place in Texas has brought tens of thousands of women and organizations together in this fight. UniteWomen.org– Texas is working with so many new and long established groups standing together to make our voices heard. Other states are watching and are not only standing with Texas, but re-energized to engage in their own states as well." – Patricia M. Gil, Executive V.P. of Operations and Texas resident.
Listed below (in no specific order) are Women's Rights Organizations And Facebook Groups To Visit/Join/Support:
Fight Laws Against Women (FLAW)
Faith Action for Women in Need
What: Stand Up For Women Rally

Where: South Steps, Capitol

When: 12pm

Bring: Hat, Signs, & Sunscreen

 
The rally will immediately be followed by organizing opportunities in the Capitol including:
Letter writing
A Signing Book for Wendy Davis
Citizen Lobby Training
An area to share YOUR best local organizing ideas
Standing with Texas women is something we can do across the state.
You can:
Host a watch party of Senate and House proceedings
Join a statewide phone bank to target key Legislators
Write a letter to the editor explaining how clinic closures could affect your community or pointing out other critical issues facing the state such as education, water planning, and healthcare that our state government needs to address.
Visit your Legislator's district office
Local Texas Branches/Groups:
Open this link for a NARAL ProChoice America Stand With Wendy Davis Bumper Sticker.
Yes, on Monday, our thoughts will be deep in the heart of Texas. Here's to reigniting the fire, and here's to using that fire to unseat every lawmaker that messes with women's rights.
---
| | |
| --- | --- |
| | Leslie Salzillo is an activist, political commentator and visual artist. She began contributing to Liberals Unite in June of 2013. |