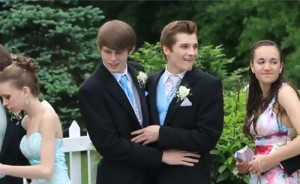 In a country where we continuously hear about the tragic bullying of LGBT students, this is a lovely and welcomed change.
Two young 18-year olds, Brad Taylor and Dylan Meehan, made Carmel's High School's yearbook superlative honor, 'Cutest Couple.' It's the first time in the school's history – or possibly ever?
In a Huffington Post statement the couple says:"This whole thing has been a bit surreal for us because we have been raised to believe that love is love. We never realized that our happiness and openness would inspire so many individuals. The support we have received from our family, friends, and even strangers has led us to believe that our affection for each other is normal … When we started dating a year [ago], the thought of a photo of us traveling throughout the world would be a bit frightening, but now we are proud to be part of the LGBT community."
This story is also about an endearing friendship. 18-year old Chelsea Blaney, posted a photo of Taylor and Meeham on her Tumblr blog this past weekend, in expression of excitement and  pride. Little did she know that so many people around  the world would share in her enthusiasm and joy. Within 24 hours, her blog went viral and so far, has been shared over 100,000 times – and that number is growing quickly.
Under the blog's photo caption, Chelsea wrote:"Two of my best friends won Cutest Couple of our senior class. First time in my school history a same sex couple has even been able to run for this category, not to mention winning it. So proud of them, and my school."
Chelsea is now trying to trying to get her friends on the Ellen DeGeneres show. The obvious kinship between these three friends is very sweet and inspiring.
What a beautiful way to help kick off Gay Pride/Lesbian, Gay, Bisexual, and Transgender Pride Month 2013, just proclaimed by President Obama. America is moving in a very positive direction, and this is cause for celebration. What once might have seemed impossible for many, has happened. Gay rights activist, Harvey Milk, who died fighting for the cause, would be very proud, indeed.
(Visited 54 times, 1 visits today)