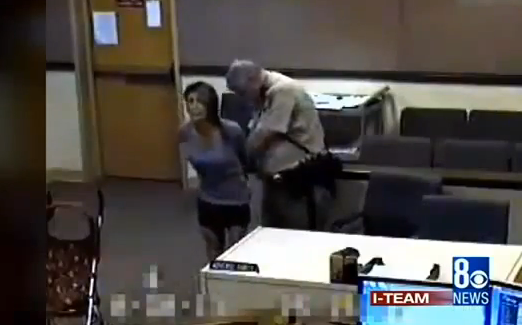 A recent reminder of just how crazy things have become in recent years. It seems that in Nevada there is a presumption of guilty until proven otherwise.
What a ridiculous situation!
Monica Contreras came to family court with her two-year-old daughter in back in August 2011. She was in the courtroom only a few minutes on a routine divorce case. Her husband filed for a Temporary Restraining Order against her during their divorce. He never showed up in court so the order was denied.

According to internal court documents, as Contreras was leaving when a family court marshal Ron Fox ordered her into a waiting room by herself for an unexplainable drug search.

Contreras said Fox touched her buttocks, breast, and ordered her to lift up her shirt. A later internal investigation by Clark County courts validated her claims. Contreras went back into the same courtroom and told hearing master Patricia Donninger that her requests to have a female marshal handle the search were ignored.

Contreras pleads as she's being arrested. She was told the arrest was a result of false allegations against a police officer. After a six month internal affairs investigation, Fox was fired.
Video courtesy of the Clark County I-TEAM
Kimberley A. Johnson (BIO) – A.K.A. The Anti Coulter is the author of The Virgin Diaries and an activist for women's rights. Like her on Facebook, Twitter or friend her on FB HERE.
(Visited 12 times, 1 visits today)