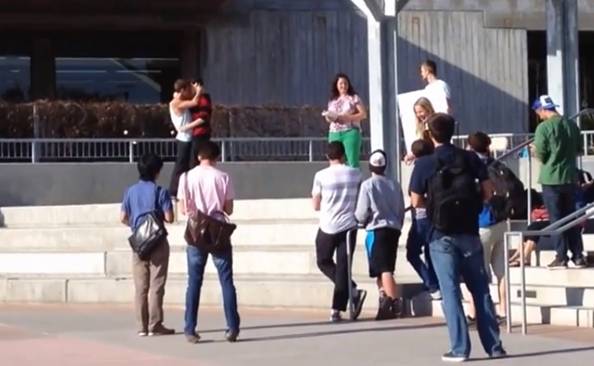 UPDATE, June 28, 2015: In light of last week's SCOTUS ruling making marriage equality the law of the land, we hope to see more spontaneous expressions like this in the coming weeks and months of conservative and religious freakouts and ranting fests over the ruling.
Apparently, she'd preached for 3 solid hours at a student union, and she was just starting a rant about traditional marriage and why gays were going to hell.
YouTube user CrazyCritterLife posted the clip along below along with the following text:
So there was this crazy preacher lady yelling in the UU for 3 hours today, talking about how we're all damned to hell and how we're sinners but she's a saint because she's spreading the word of God (you know, the usual). She was just beginning a rant on traditional marriage and why gay people are evil when this happened. Highlight of my week.
You can watch the clip, below: