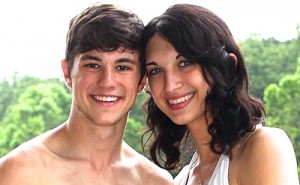 These two teenagers are precious and inspiring. I can't imagine the emotional hardships they've had to endure. It makes it that much more wonderful to see them so happy, and so in love. Their story is different from most young couples. Katie grew up a boy's body, feeling like girl. Arin grew up a girls body, feeling like a boy. They met two years ago in a transgender support group in Tulsa, Oklahoma, and fell in love. Both decided to have elective surgery. Arin had top surgery most recently.
In a Huffington Post report:

Katie expressed her empathy for Arin: "Being transgender myself, I understand Arin better than anybody else — how good he feels and how complete he feels."

Arin added: "I hated my breasts, I always felt like they didn't belong. Now I finally feel comfortable in my own body." "Now when I'm out in a public pool or lifting weights, no one raises an eyebrow. They just think I'm a guy. … I can wear a tank top, which I couldn't before, and I can go swimming shirtless. I can just be a regular guy. And I'm so lucky to have my family and Katie to rely on."
Growing up was not easy for the couple. Katie was bullied and abused,which she says caused depression. At 15 she confided to her mother that she wanted  to become a girl.
Katie Hill's mother said: "Knowing what Katie went through for eight-plus years — there's nothing worse than watching your child suffer. "It's still my baby — male or female, she's still my child. And I don't have to kneel at her grave."

Arin Andrew's mother had this to say: "Seeing Katie go through her surgery was helpful to Arin," she said,"It was being around it and seeing her getting to transform. And being a couple at the time was I think just the cherry on the cake. Every transgender person would love to have the transformation physically because it just completes them as a person."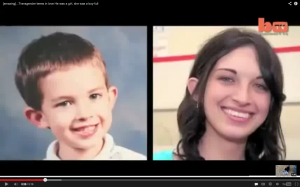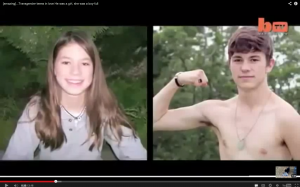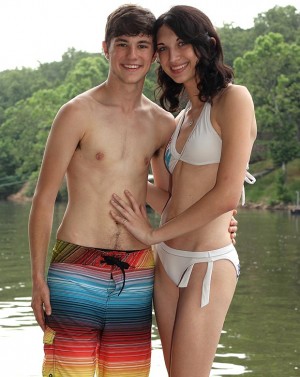 (Photo: Laurentiu Garofeanu/barcroft)
Today, Arin 17, and Katie 19, are an inspiration, not only to transgender teens, and adults – they are an inspiration to us all. Through courage, support, love, and belief in their dreams, they were able to match the outside, with the essence and beauty they felt inside. I know I'm not alone in wishing them great joy. Writing this has made my heart sing.
---
| | |
| --- | --- |
| | Leslie Salzillo is an activist, political commentator and visual artist. She began contributing to Liberals Unite in June of 2013. |
(Visited 78 times, 1 visits today)