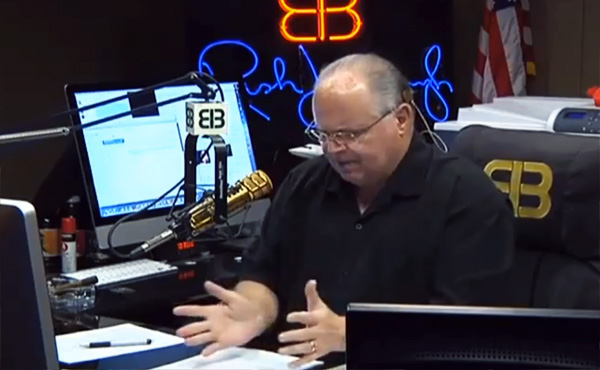 Yes, Mam! Big name companies as well as small locals, continue to dump Rush Limbaugh – thousands have departed so far. Some of the most loyal Rush Limbaugh sponsors, who have ignored protestors for over a year… are now bolting. Why? The boycott heat is hot, and these Rush Sponsor-Babes are feeling the *BAIN, I mean the pain. We are thrilled to see them go. Do they deserve our praise and glory? Hell, no. They stood by Limbaugh, even after the 3-day attack of Sandra Fluke. They saw him call her a 'slut' and 'prostitute' for advocating insurance coverage for  birth control, and they continued to sponsor and support his hateful bigoted rhetoric by throwing advertising dollars his way. No reputable company should have stayed with him after that. Maybe someday, the public will forgive these companies. Right now, we are glad to see them finally doing the right thing. The latest of the larger companies, to flush Rush, is AAMCO. Here is part of their statement, sent to protesting groups:
"AAMCO stores are locally owned and operated, and each, therefore make advertising purchasing decisions at their own discretion. However, after many requests online from groups and individuals who have continuously posted about the controversial content on the Rush Limbaugh program, AAMCO investigated where local centers were advertising on Rush Limbaugh programming. The program was not specifically selected by any local AAMCO center, but was part of a broad program rotation in two local markets. Because of this, AAMCO has since requested to those markets that the Limbaugh program be removed from the ad rotation, therefore making an exception to its local policy."
Very good. Pray tell, why didn't they do this before? For over a year they have been contacted by individual consumers and groups. Many of these national chains often say they do not agree with Limbaugh's commentary, but they have no control over their franchises. That's BS, and we all know it. When push comes to shove, it's their name and logo on the line – and  they can call their troops to order.  Push also came to shove for Capstone and Safelite who've not been heard on Limbaugh's show for at least 30 days.  Angie's Lists has gone back and forth, so we don't know what they'll do. (They're gone for now.) The protests are clearly working. Limbaugh's parent company, Clear Channel, run by CEO Bob Pittman and President John Sykes, has lost hundreds of millions in revenue.  Clear Channel is owned by Bain Capitol (yes, of the Mitt Romney flavor). And Clear Channel owns iHeart Radio.
We must celebrate the American public for these accomplishments. It has not been an easy job, no. Hundreds of thousands are involved in the work. There are numerous groups and petitions. Some groups like 'BoycottRush' and 'FlushRush', monitor stations, and report ads to the StopRush Database, then post them on their Facebook walls. The BoycottRush Facebook Group has over 58,000 members. When they post a sponsor's name on their wall, it appears in the Facebook news feeds. Those people share on other social media networks like Twitter, Tumblr, Reddit, StumbleUpon… and can reach millions. That's a lot of bad press for a sponsor. And sometimes even bad press – is not good press.
Occasionally, several groups join together and do social media blasts. On a certain day, at a certain time, the combined group members tweet, Facebook post, call, and email sponsors – all at once. Members are advised to be respectful to sponsors. There are some that do not follow that advice, but for the most part, the boycotters are decent everyday people who've joined the Limbaugh protests because they care about public radio. They are fed up with the hate speech Rush Limbaugh spews daily on our public airways. Though some members are politically inclined, for most people, this is not a right/left wing issue. It's about common decency – something Limbaugh greatly lacks. Our public radio network was created to give voice to the American people. It was not created to be used by a hate-monger like Limbaugh, who makes millions, to promote lies, while he spins racism, sexism and gay-hating bigotry. We're taking it back, Rush.
To join in the final countdown days to victory, here are a few ways you can help:
Join/Like:  BoycottRushFacebook Group
Sign: Limbaugh Sponsor & Clear Channel Petition
Visit: The StopRush Database
Email: FCC Acting Chairwoman Clyburn
Sign: Petition To Remove Limbaugh's Bust From Missouri State Capitol Building (The bust sits with with others like, Mark Twain, Walter Cronkite, Sacajawea, and Harry Truman – in tax-paid government building)
Sign: Limbaugh Petition to the Military Armed Forces Network/AFN
Some of Limbaugh's most loyal remaining sponsors include:
Amberen, SweetJack, LegalZoom, Comcast, Ageless Male, Lifelock, Comcast, Blinds.com, Stamps.com, Regus, Lear Capitol, Income At Home/Herbal Life, Hillsdale College, Lunch Dates, Dish, Wave Home, Gold Bond, Midas, Visiting Angels, MyTV, New Vitality, Keller Williams, Heritage Foundation, 800-Donate Cars, Power Swabs, Idrive, Bank On Yourself, Total Transformations and iHeart. Sadly, AARP has fallen prey to Limbaugh's free ad space, and there is a concerted social media effort by StopRush groups to encourage AARP to pull their ads immediately, before their name is permanently damaged. Free or not, why would any organization want to advertise, and align themselves, with a man who offends, I'd venture to say, over 90% of the country? (Women, Blacks, Hispanics, Gay Men, Lesbians, the Military, the Disabled, Children, Immigrants, the Poor, Unions Workers, Teachers … Who have  I missed? Oh, that's right.)
Rush Limbaugh's vile commentary has finally caught up with him. How great to witness the people using their voices and consumer dollars to Kick-His-Ass. It's been a long time coming.
---
| | |
| --- | --- |
| | Leslie Salzillo is an activist, political commentator and visual artist. She began contributing to Liberals Unite in June of 2013.This story has also been posted to Daily Kos. |