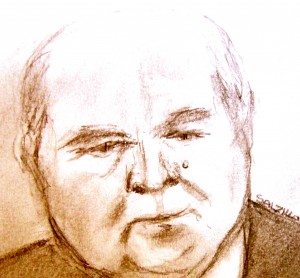 It's another happy day for the Rush Limbaugh boycotting consumers – which means it's another bad day for El Rushbo. After sending a simple message to a sponsor, via the contact information found in the StopRush Database, some members of the BoycottRush and  FlushRush groups received this email from Disney On Ice:
From: customer relations <[email protected]>
Subject: RE: Thanks for your time
Date: July 24, 2013
"Thank you for contacting Disney On Ice. We appreciate your support of our shows. The advertisements you are referring to have been pulled and should no longer be airing during the Rush Limbaugh show. We appreciate your continued support of our shows and do hope to see you soon!"
Sincerely,
Disney On Ice
Thank you, Disney On Ice, for acting quickly and doing the right thing. It must be noted, Disney On Ice, was not a long-standing sponsor. Their ads were reported only five times, and may have been placed on the show without permission, to fill empty spots left behind by thousands of sponsors who've pulled ads. A letter like the above has become common place for  boycotting consumers to receive. One only need visit the BoycottRushFacebook Group or the StopRush Database, find a Limbaugh show sponsor or radio station, choose a link, and send a few respectful sentences about why you'd like them to stop supporting hate speech. The FlushRush Fight Group is another good group, and there are several very good petitions circulating the internet as well. Three are listed below.
A little side note of happy: Rush Limbaugh ad space is now known to be quite cheap, if not free, to some. StopRush holds documented messages from companies who say they've been offered free Limbaugh space – and turned it down. Also, many companies are finding when they buy ad block on a network, some of their ads are being placed on Limbaugh's show without permission. Needless to say those companies are not happy when they find out via StopRush members who contact them. These days, any alignment with the hate monger can be damaging to a company name/image. In May, a representative from Cumulus radio network reported over 95% of companies buying airtime on their mega network, now include a 'No-Rush Limbaugh' clause. That's huge. Rush Limbaugh space used to be primo. Both Cumulus and Clear Channel radio networks have suffered great losses in the millions, since the boycotts began last year. Cumulus admits it's due to the boycotts. Clear Channel, run by Bob Pittman and John Sykes, refuse to publicly acknowledge they've been affected by the public's outrage – even though their 1st quarter earning report this year showed a $200+million loss in revenue. Proof's in the pudding.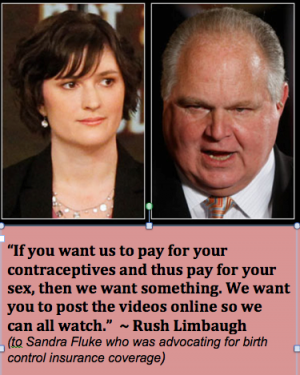 Our public radio network was created to give voice to the American people. It was not created to be used by a hate-monger like Limbaugh, who makes millions, to promote lies, racism, sexism and gay-hating bigotry. We're taking it back, Rush. To join in the countdown days to victory, here are a few ways you can help:
Join/Like:  BoycottRushFacebook Group
Sign: Limbaugh Sponsor & Clear Channel Petition
Visit: The StopRush Database
Sign: Limbaugh Petition to the Military Armed Forces Network/AFN
Sign: Petition To Remove Limbaugh's Bust From Missouri State Capitol Building
Note: Some of Limbaugh's most loyal remaining sponsors/advertisors include:
Amberen, SweetJack, LegalZoom, Comcast, Ageless Male, Lifelock, Comcast, Blinds.com, Stamps.com, Regus, Lear Capitol, Income At Home/Herbal Life, Hillsdale College, Lunch Dates, iHeart, Wave Home, Gold Bond, Midas, Visiting Angels, MyTV, New Vitality, Keller Williams, Heritage Foundation, 800-Donate Cars, Power Swabs, Idrive, Bank On Yourself, Total Transformations and iHeart.
AARP has fallen prey to Limbaugh's free ad space. StopRush groups are encouraging AARP to pull their ads immediately, before their name is permanently damaged. Free or not, why would any organization want to advertise, and align themselves, with a man who offends the majority of Americans.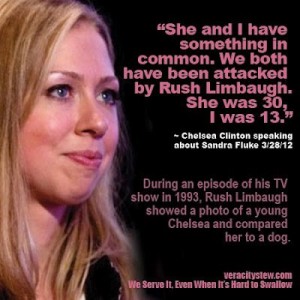 There is also a ThinkContext Limbaugh Sponsor Browser App and a new Limbaugh Petition to the Military/AFN. Some of the larger groups that support the protests include: Media  Matters, UniteWomen.org, Daily Kos, Being Liberal, Addicting Info, and Liberals Unite.
The people are speaking out. No longer will we sit back, expecting media and large corporations to do the right thing. We are proactive in our objections. Along with our voices, we are using our second strongest weapon – our consumer dollars. With all the competition out there, it's very easy to move our patronage away from companies that support radio hate speech, to their competitors who actually care about such things, as well as their customers. It's the beauty of our First Amendment. How lovely when it's used for the good of all. Can you hear us now, Rush Limbaugh?
---
Limbaugh Sketch by LAS
| | |
| --- | --- |
| | Leslie Salzillo is an activist, political commentator and visual artist. She began contributing to Liberals Unite in June of 2013.This story has also been posted to Daily Kos. |