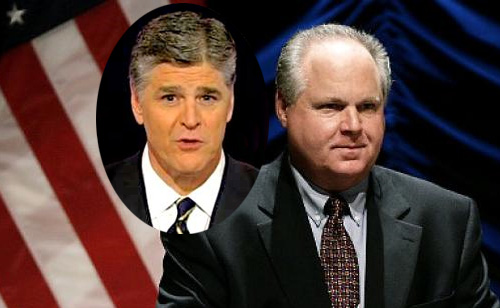 It's double the pleasure for many Americans. Sunday night, Politico reported Cumulus radio network is planning to drop Rush Limbaugh and Sean Hannity. This has much to do with the concerted efforts by  fed-up citizens and activist groups nationwide, who have been diligently working to rid Limbaugh's hate speech from public radio, with boycotts, petitions and protests. Hannity – is a bonus. Politico reports:
In a major shakeup for the radio industry, Cumulus Media, the second-biggest broadcaster in the country, is planning to drop both Rush Limbaugh and Sean Hannity from its stations at the end of the year, an industry source told POLITICO on Sunday.

Cumulus has decided that it will not renew its contracts with either host, the source said, a move that would remove the two most highly rated conservative talk personalities from more than 40 Cumulus channels in major markets.
More will be revealed this week, as Cumulus announces its 2nd quarter earnings report on Wall Street. This will be another telling tale in the fate of Limbaugh (and Hannity), at least with Cumulus. CEO Lew Dickey has been known to 'talk' during earnings reports, which have all been pretty dismal ever since Rush Limbaugh's attack on Sandra Fluke (see video below). Last quarter, Cumulus reported  a loss of over $2 million, and has been claiming for a year, that losses are due  to the national protest against Rush Limbaugh. A Cumulus spokesperson claimed, 48 out of 50 major network advertisers now  include, 'No Rush Limbaugh' clauses when buying airtime.
On the other hand, Clear Channel, the media giant that carries Limbaugh and Hannity on 600 radio stations, continues to stand by Limbaugh's side, while boycotts have caused well thousands of  sponsors to pull ads from Limbaugh's show, this past year. Run by Bob Pittman and John Sykes, Clear Channel reported  hundreds of millions in revenue losses (in compared to Cumulus measly $2 million+)  during the network's 1st quarter earnings report in May. They refuse to say it had anything to do with the Limbaugh protests. Revenue numbers prove differently. Some boycotting groups are contacting major recording artists to boycott iHeart Radio – owned by Clear Channel, until Limbaugh is dropped.
So it's no longer 'will Limbaugh go down?' It's 'when will Limbaugh go down' –  along with Hannity and  the rest of 'hate radio.'  As with any major protest and movement, good eventually trumps evil. Sometimes it happens quickly – sometimes slowly, but eventually happens.  And it's happening here.
Our public radio network was created to give voice to the American people. It was not created to be used by hate-mongers like Limbaugh, who make millions promoting lies, racism, and sexism and lgbt-hating bigotry. To join in the protest against Rush Limbaugh, here are a few ways you can help:
Join/Like:  BoycottRushFacebook Group
Sign: Limbaugh Sponsor & Clear Channel Petition
Visit: The StopRush Database
Sign: Limbaugh Petition to the Military Armed Forces Network/AFN
Sign: Petition To Remove Limbaugh's Bust From Missouri State Capitol Building
Note: Some of Limbaugh's most loyal remaining sponsors/advertisers include or have included: Amberen, SweetJack, LegalZoom, Comcast, Ageless Male, Lifelock, Comcast, Blinds.com, Stamps.com, Regus, Lear Capitol, Income At Home/Herbal Life, Hillsdale College, 800-Flowers, Lunch Dates,Wave Home, Gold Bond, Midas, Visiting Angels, MyTV, New Vitality, Keller Williams, Heritage Foundation, 800-Donate Cars, Power Swabs, Idrive, Bank On Yourself, Total Transformations AARP and iHeart.
You can now upload a free ThinkContext Limbaugh Sponsor Browser.
Some of the many larger groups that support the Limbaugh protests include: Media Matters, UniteWomen.org, One Million Pissed-Off Women, Daily Kos, Being Liberal, Addicting Info, Political Loudmouth and Liberals Unite.
Limbaugh has been spewing hate speech for decades. Here is the Fluke attack that kicked off the current boycotts. These statements were made while the then unknown law student was at a congressional hearing, advocating for insurance-covered birth control:
Congratulations to the  public for using their freedom of speech and the right to publicly protest, petition and boycott, when they see wrong-doing. In this case, it's hate speech we are protesting, and we are using  American democracy to fight it… and wining.
---
| | |
| --- | --- |
| | Leslie Salzillo is a pro-choice activist, political commentator, Rush Limbaugh boycotter, and visual artist. She began contributing to Liberals Unite in June of 2013. |