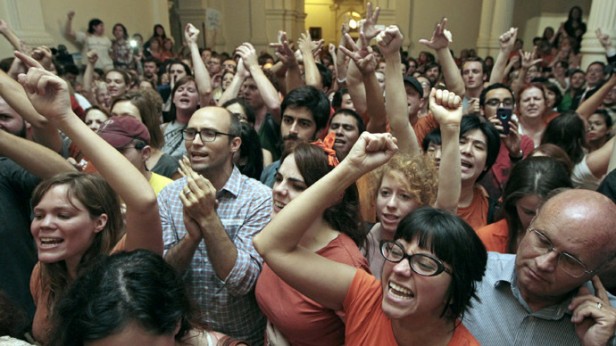 Republicans like Erick Erickson were more than happy to spread the false information that jars of urine and feces were brought to the Texas capitol in the protest against the abortion ban.

Let us be clear.
NO JARS OF FECES OR URINE WERE FOUND.
From the Lubbock Avalanche-Journal:
DPS did not take the names of anyone caught trying to bring feces, urine or other forbidden items inside the gallery, the letter reads, because "no crime had been committed, and it would be unreasonable to document names of visitors based on what they might or might not do."

DPS officers interviewed by The Texas Tribune on Friday said they had not seen any feces or urine themselves, with several saying the interview was the first time they had heard of people trying to bring either item inside the gallery.

McCraw added that while thousands of residents lawfully participated in the hearing, "there were some, albeit a small number, who came to our Capitol to engage in criminal activity, and our goal, was to prevent them from doing so."

Howard said she was disappointed by McCraw's letter. "There's no information to explain why they suspected that" jars might contain feces or urine, she said.
But here's how it works for Republicans:
False rumors were circulating online that Texas State Troopers were confiscating jars of urine and feces at the protest. The GOP latched on to it and spread the news. This provides another reason for conservatives to buy into the idea that feminists and women who fight for reproductive rights – that are LEGAL – are dirty and evil. Will we hear an apology for being wrong and spreading false rumors from Erickson? No. Will we see any right-wing organization apologize? No. Because they want people to believe it's true even though it isn't.
Here's a short list of right-wing/forced birther sites that have promoted the lie:
Jim Bakker Show (The Christian man who was married to and cheated on  Tammy Faye and was arrested for accounting fraud).
And even Huffington Post jumped on board.
For those interested in the truth – NO JARS OF URINE AND FECES WERE EVER CONFISCATED.
Visit NBCNews.com for breaking news, world news, and news about the economy
Promote the Progressive Vote. 2014. Don't stay home.
---
(Visited 7 times, 1 visits today)