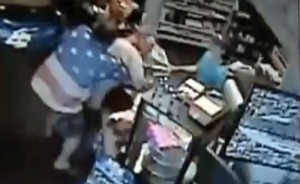 This dramatic surveillance camera footage shows a Mansfield, Ohio, Correctional Institution prison escapee being captured by a customer wearing an America flag shirt.
Police had alerted locals about the escapee on Wednesday and plastered James Myers' photo at businesses around the prison.
Myers was serving a 40 year sentence for rape, burglary and other charges and was considered to be dangerous.
Local news affiliate, NBC4i, reports that:
The young staff at the Olivesburg General Store 9 miles away from the prison said the sexually violent offender entered the store and asked to use the telephone. He paid for an ice tea, and about 10 minutes later, he was about to pay for a Snickers bar.

"Just giving me the money, the coins passing over to me, and out of nowhere this guy came and just tackled him, It was pretty awesome. He wasn't getting up," clerk Lydia Miller said.
As you can see from the raw surveillance video below,  a customer dressed in a patriotic shirt slams the 47-year-old prison escapee to the floor and holds him there for authorities.
WCMH: News, Weather, and Sports for Columbus, Ohio
Here is a broadcast giving more details of the story from NBC's Today Show:
Visit NBCNews.com for breaking news, world news, and news about the economy
(Visited 9 times, 1 visits today)