North Carolina GOP pulled a fast one Tuesday, by slipping in a vote for anti-choice Bill HB695, before  it could be properly reviewed. Below are videos of Senator Josh Stein and Senator Nesbitt, both Democrats, speaking on behalf of women rights Tuesday night, and condemning the abuse of government by Republican lawmakers.
Women's organizations including Planned Parenthood NC, NARAL,UniteWomen.org and student organization, Feminists Students United, quickly put out a nationwide call for Pro-choice supporters to come to the state's capitol for an organized protest. Facebook and Twitter lit up and over hundreds of protesters showed up with less than a 12 hour notice. The bill was debated and the protestors in the assembly room were told:
"The gallery is to remain silent. The senators on the floor are the only voices that matter."~Phil Berger, President Pro Tempore, NC Senate (Thank you WeAreFUSE for the quote)
Wow. I'd have had a tough time keeping quiet after hearing that one; yet the protestors remained silent and respectful until the session was adjourned. As they were leaving they made sure to get in their last word(s) and chanted, "Shame, Shame, Shame…" Good on them.
The bill is expected to pass in the House, given the GOP bought the entire state in the last election. It will then go to Governor McCrory to be signed. McCrory denounced the backdoor tactics of last night's session. Let's hope that he keeps his campaign promise not to sign any bills that restrict abortion, while perhaps showing TX Governor Richard Perry, how governing works when it comes to calming, 'unruly mobs'. Women and the world will be watching, and remembering.
More on the story from local news, WRAL in Raleigh on Wednesday (Video):
Senator Josh Stein (D-NC) Tuesday's Speech (Video 4:46)
Excerpt:

"This is terrible process.Process does matter. The rules require when there's a proposed committee substitute, it be given to us –the night before. Why? So we can look at it, and we can talk to people who have concerns about that legislature, before we go in committee and debate it.

"I am opposing this legislation (HB695) because its intent, is to eliminate women's constitutional right to have access to health care procedures for their pregnancies – to eliminate their choice."
Senator Nesbitt (D-NC)  Tuesday's Speech (Video 6:50):
Visit NBCNews.com for breaking news, world news, and news about the economy
Excerpt:
"We have a state full of people out there that don't even know we're doing this. And let me tell you what I think you're doing to them.

I think the provision having to do with ambulatory care centers is going to do away with health care as we know it for women who need help. And there are going to be more of them, not less of them. When you force these things in the ambulatory surgical centers, planned parenthood has four centers in the state — none of them comply. Out of business. Nobody told us that in committee.  I scurried around and got that information myself.

That crowd that is going to descend on you when you get back down here is going to know it. It is a frontal attack on these facilities that offer women's health care to women — things they need, mammograms, etc."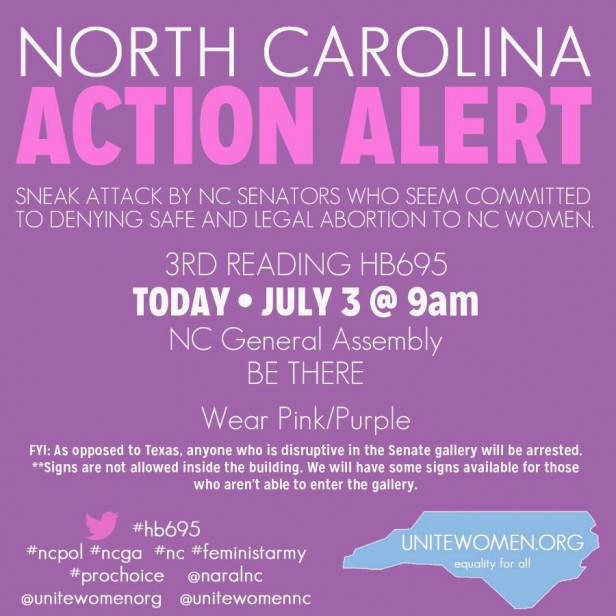 Wednesday's Full HB695 Debate In NC General Assembly (Video):

---
| | |
| --- | --- |
| | Leslie Salzillo is an activist, political commentator and visual artist. She began contributing to Liberals Unite in June of 2013. |
(Visited 8 times, 1 visits today)